Welcome to the home of Donna Barstow, editorial and opinion cartoonist for Slate, Yahoo! News, The New Yorker, Barron's, and many other venues!
Paypal is Your Friend
The box in the sidebar on your right has a Paypal button and the most common uses and prices. Just write the caption or date of the cartoon and how you want to use it.
Anything else, email me on the contact page or use my whole name, Donna Barstow together and at gmail.com. Paypal doesn't cost you a penny when you buy!
How to buy cartoons for newspapers and magazines
If you'd like to use any of my cartoons in your newspaper, or magazine, or online site, contact me, as I can easily quote similar media.  Rates are competitive and reasonable.
How to buy business cartoons
Powerpoint presentation, newsletter, cool book, or newsletter, all need good cartoons to look professional and keep people's attention. Use the Paypal button and be cool.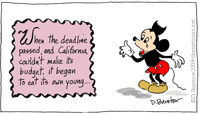 How to buy cartoons for blogs
If you'd like to use one of my cartoons in your personal non-profit blog, with a link to my website, be legal and responsible, and ask first. Use of registered copyrighted materials without permission is illegal and is subject to fines up to $150,000 plus legal fees. We register our work with the copyright office. We pursue violators.
How to buy cartoons for Teachers and Students
I offer reduced rates to schools, or if more than 2 cartoons are purchased. No cartoon here is free, even for teachers and students. Using cartoons without permission is illegal and is subject to fines up to $150,000 plus legal fees. Fair Use does not have different laws for schools; there are 4 rules for Fair Use, and none of them would include a student or teacher using a cartoon for any reason. But let's work together! All students need to learn what an editorial cartoon is, and how fun they are.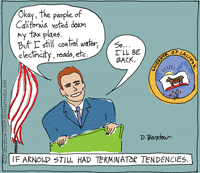 How to buy cartoon prints
If you want a  hardcopy of any cartoon for personal enjoyment for you or a friend:
I'll make the copyright signs disappear, so the cartoon is fresh and untouched. Will sign it if you wish. Prints are on acid-free artist paper, size 5″ wide print on 81/2″ x 11″ paper; this leaves a nice border for a mat or frame. Cost is $23, and a portion of this will be donated to a charitable animal organization.
lets you write the description or date of the cartoon,  whether you would like me to sign it, and the name for an inscription. First Class shipping is free in sturdy cardboard.
………………………………………………………………………………………………………….
My Books
See my Cartoon Books page for more juicy details on the books. Order through Paypal in the sidebar, which accepts all credit cards,  if you want signed books!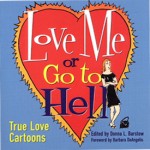 Love Me or Go to Hell, True Love Cartoons, about love and not-love. 220 pp, 5″ square, softcover.  I'll sign it either "Love", or "Hell",  or any other greeting of your choice, and you can tell me what name to put in there, if it's a gift.