* Finally cracked TIME Cartoons of the Week with this one! Yes, it took a local LA cartoon to make good on the East Coast. Also in Daily News today, LA Observed, CalWatchdog.
You can't know the excitement here about…a Freeway. The worst freeway. The one everyone hates to hate, the 405. The warnings started weeks ago, and lighted signs everywhere else let us know that even on the East side we're not safe.
They're closing the Freeway for July 16 and 17 for 10 miles – but they really start work at 7 PM on Friday night, so it's 2 1/2 days. Just like the riots, they're warning everyone not to go anywhere. I guess we're allowed to walk, since they're into fitness, however.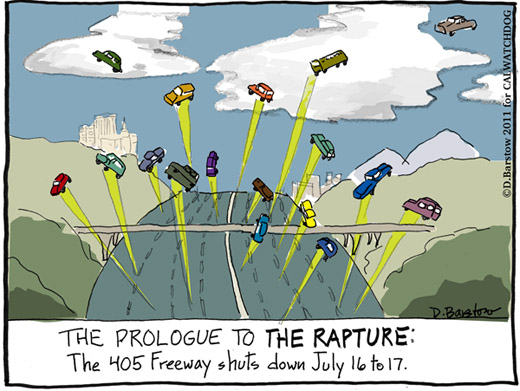 Not that they're improving the freeway – they're tearing down a bridge. Half a bridge. The other half comes down a year later, but they aren't publicizing this part as much, because then everyone would know what an assy plan this is.
I know Rob Long, and he's a funny and clever guy, but I don't get his take on the freeway closure here. There's nothing funny about it…it's just true. The 405 is horribly unpredictable and terrible.
Cartoon caption: THE PROLOGUE TO THE RAPTURE: The 405 Freeway shuts down July 16 to 17.
Interpretation of cartoon: Well, it's funny! I saw a postcard years ago of one of the original Rapture paintings, and never forgot it, with people flying out of car crashes, graves, etc, into the sky. I was truly shocked. (Although I'm easily shocked). Somehow that stuck in my head with cars being thrown off the Freeway. Both are sort of unlikely, but hey, one of them is happening this weekend.
Found a good source for all Rapture paintings, and you can see the one I was thinking of there. I give you this link with some reservation, however: the site is called something like Jesus needs new PR, but it is both un-Christian and unethical and BAD BLOGGING for him to use all those images and not link to anyone or mention the artist in any of them!! So there!!
This cartoon also runs in Daily News this weekend.