You know the story: Arnold Schwarzenegger shacked up with an unattractive but very sensual maid, Mildred Baena, (I must assume she had sex appeal at some point). I'm guessing it happened in the pantry, don't you think? While Maria campaigned for causes or politics in the foyer.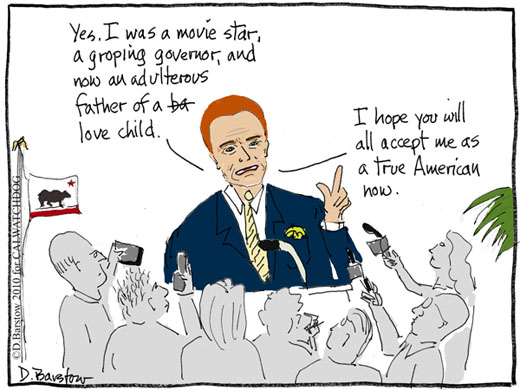 Arnold cartoon
I know I said I wasn't going to do a cartoon about this, but the story was so big that my editor of Calwatchdog, in Sacramento (state capitol), specifically asked me to! Sure, I was reading all the details, but…I just hate outing people, even politicians, for their sexual escapades. It's kind of private.
In this case, I actually didn't vote for Arnold because of his sleazy ways towards women in the studios before he became Gov'r. I worked in the studios for a while. I know what's it's like. Yes, I believed the LA Times stories on his groping, although other sources said they were lies at the time. So it was him taking advantage of the ladies that repulsed me, not the sexual inclinations.
This week, Orange County politicians called him a nasty word. I don't like that word, so go see it.
Ooh, I found a lot of pictures of Arnold and the housekeeper, Mildred Baena here. Leave it to the British press!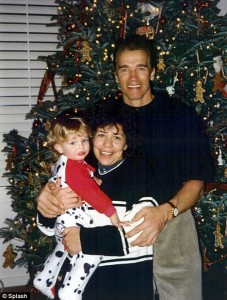 Cartoon caption: Arnold Schwarzenegger talks to the media about his affair and illegitimate child with Baena? He says, Yes, I was a movie star, a groping governor, and now an adulterous father of a ba love child….I hope you will all accept me as a true American now.
Below, update on this blog.
And in my own housekeeping here…
Yes, it's been a while since I've blogged.
I started a Facebook Page. Not personal, just my cartoons. Anyone can see it, anyone can Like it or join it. I also have a link to it in the sidebar. This coordinates all my cartoons in one place: political, general, for Psych Today, etc, so Like  it and get updated on all the new cartoons that go up.
I had to disable comments because of so much spam this month. I'll re-able soon, or when someone requests it
My traffic took a big nosedive in February when Google changed their precious algorithm, and rewarded big sites, while they downgraded original, small sites like mine. They also weigh backlinks heavily now – that is, who links to the site. There are very few editorial cartoon blogs, and most of them are connected with newspapers, so they can't link to me. Just a couple of politics sites link to me, and that's not enough.
Traffic went down again once school started this month. I have been keeping track of certain schools anyway. Cartoons aren't free, people, just like lunches and blackboards and books and teachers aren't. Just looking is fine, but I know certain places, who come back all the time, are using my cartoons in class. Infuriating. But at least now I have a list, for September, rubbing my hands together!
I don't know if I'll continue this blog.
How you can help: send OpEdCartoons (this site) to newspaper editors, link here yourself or suggest other sites link here. Or, donate to my Paypal tip jar in the sidebar. Otherwise, grab a shovel.
Check out my Father's Day Cartoon in Psychology Today.