We just turn that direction when we see what a mess Liberals are making.
This Mother's Day cartoon is in honor of Cathy Seipp, a writer for National Review and many other publications, who taught me it's okay to be a conservative.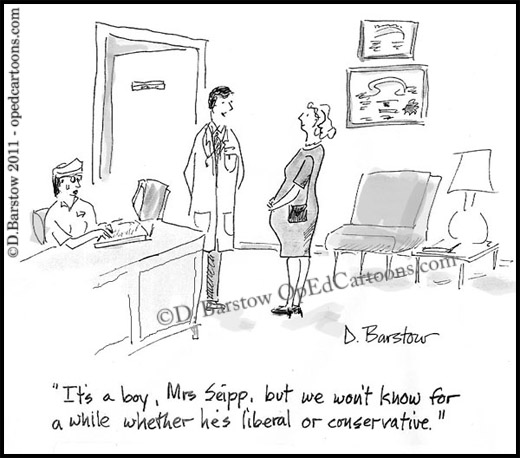 Cathy was also a fine mother, which defined her almost equally with her political leanings. Doesn't every new mother want to know how their child will turn out? Especially his or her politics? The sex alone just doesn't cut it in the fortune-telling business of pregnancy now.
Cathy's daughter is a proud Republican. You did a great job raising your girl, Cathy.
Cartoon caption: Doctor talks to pregnant woman in his office: It's a boy, Mrs. Seipp, but we won't know for a while whether he's liberal or conservative.
Another Mother's Day cartoon, about the movies.
And yet another, non-political Mother's Day Cartoon, over in Psychology Today. Kind of a downer.