Some jailbirds fantasize about women in prison. Others dream about what political party would make them happy.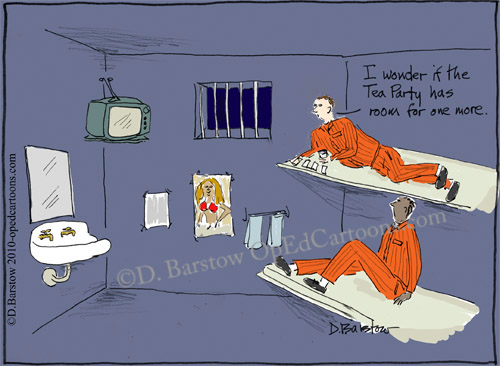 I hope everyone knows that felons (prisoners) can't vote.
Oops. In some states, now, apparently felons can vote. (Maine and Vermont, at the date of this article, 2008).
A loose-knit group of national organizations working to restore voting rights includes the Association of Community Organizations for Reform Now, or ACORN (Bell's employer); the National Association for the Advancement of Colored People; and the Brennan Center for Justice.

Last month, Obama campaign workers took down a sign at their headquarters in Pottstown, Pa., that said "Felons can vote," because it might have sent the wrong message.
Hysterical! I guess Obama didn't want to be the candidate of former inmates. :) Inmates are predominantly black and Hispanic in most states, and the article goes on to say that people who have committed felonies (jailbirds), are young, with a poor education, and "these demographics are traditionally Democrats."
Oh, my. :)
Interpretation of the cartoon
In any case, I knew a former inmate very well, but I think most people know, anyway, that felons can't vote or own guns, which is part of the joke here. Of course, he could join the Tea Party anyway…
I wanted to make the point that the Tea party thinks of themselves as so uber strong and sexy now, so that even a hardened criminal is impressed with their creds, like they're a gang.
Part of the caption, though, has to do with a Twilight Zone episode that I never saw, but a friend in school had, and she used to terrify me with the words. It was about an airplane flight (scared already?) almost full up and the creepy flight attendant said to one of the passengers, "There's room for one more, honey." She doesn't get on, and of course the plane crashes.
Apparently that's a line in a lot of scary stories, however!
Cartoon caption: 2 prisoners are in their cell watching TV, and one says to the other, I wonder if the Tea Party has room for one more.