It's a beautiful new week for cartoons! This roundup for the LA Times is for cartoons published the second week of June, 2010.
Since I'm editor here, I shan't go into my personal  stuff – like my car accident, dealing with 2 insurance companies, aftereffects of the accident, a new problem in the car, which wouldn't start, and now is in the shop for a possible VERY expensive bill, which may or may not be connected to the accident, my dentist as a result of the accident, and the fact that malware infected my computer for 4 days, and completely disabled my internet connection as well as my Task Manager, which I finally eradicated through an antivirus program with the regrettable name of SuperAntiSpyware Free Edition. But at least it worked. Most of the others wouldn't.
All is calm today, anyway, so I hurried to the new cartoons to see what had happened this week while I was missing! (I explain how and why I do this roundup over here.)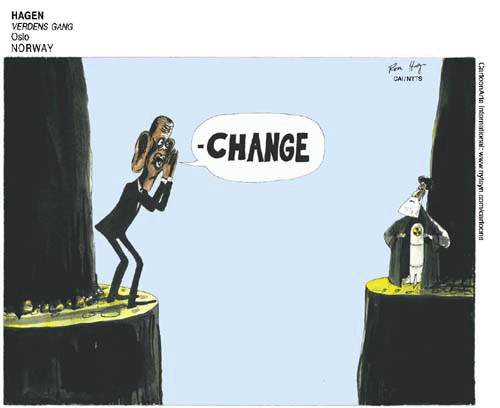 This cartoon by Hagen from gocomics.com,  made me laugh out loud! Mr. Hagen, from Norway,  might not be interested in partisanship, but this is EXACTLY how I view Democrats 99% of the time! Tossing off a loud reproof in the general direction of a problem and not doing a thing about it.  The chasm separating the Dems from taking action is astounding.
I love Obama's little squat here as he tries to speak a little louder, to get his point across. The man on the other side is holding a nuclear weapon. Who is that guy? Is it just Iran? I don't know, and so I declare right this moment that I won't do a cartoon on nuclear bombs until I figure out who this important person is.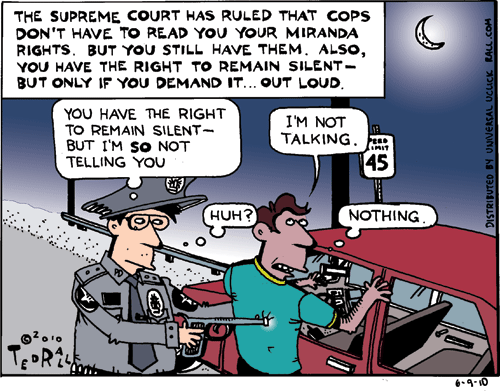 Ted Rall and I don't have a relationship, not really, but I would say we have a strained respect. Ted comes from the world of the Alties – alternative cartoons – and I don't know if he's ever recovered emotionally from that. I only read a couple of alternative comics, and now that they're not in the LA Weekly, I never see them. I didn't read Ted. But now that I do political cartoons,  of course I see him in Gocomics.com, and, in fact, he's the most popular cartoonist in the editorial section. (Uclick only shows comics from 10 men there, so of course the SAME 10 people are there every day, every year. Convenient! UPDATE: now Signe Wilkinson is there, after I complained for 2 years. Only, it's a lie, because she's NOT one of the top 10, she's #15.)
I do think he's super smart and educated, and  does some clever cartoons. However, he has the same (only?) flaw as I do: sometimes he tries to make too many points at the same time, kind of jumping around, and not everyone gets convoluted cartoons!. (I've seen Ted a few times lately in the LA Times, and even though I live here, I've only understood one cartoon out of 4.)
This is an interesting cartoon on Miranda rights, and indeed, our privacy rights. I didn't know about this Supreme Court ruling, but it's fascinating: now the police can question you for hours, until you confess. For stupid people,  this will get them in jail faster. And it might give us more interesting true murder books.  But this looks like a dumb ruling,  so I don't know what the police will actually do as they apply it.
This subtext between the police and the suspect reminds me of a film noir, (which LA Times readers always dig, proving that once again they know art in a way no other city does). What will happen here next?!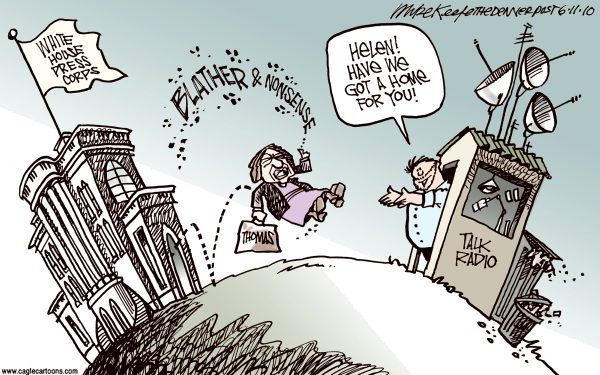 I also see from these intrepid and hard-working cartoonists that Helen Thomas may have spoken thoughtlessly.  I had to look up what the White House Press Corps is – just the reporters who apparently write down every golden word in all the conferences.  I didn't know it was an elite group. Anyway, she said some mean things, and now she's gone. I saw several cartoons bashing her, but I liked this one by Mike Keefe, from Caglecartoons.com, because he brought humor to the situation by introducing her as a lightning rod in talk radio!
I love talk radio!! I've been kind of busy lately, so haven't had that much time to listen, but I haven't heard anyone even mention her. Still, good way to cover the whole nasty situation, while not skewering a much older, former respected journalist. Also like the bounce movement, and the suggestion that from the White House, to talk radio, is a world away! Good, Mike.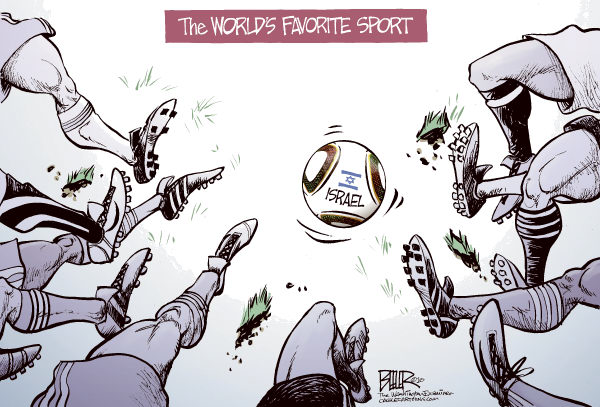 I also noticed a hella lot of cartoons from the guys about some sporting event going on last week. For all I know, it could still be going on. It looks like a big soccer game. I picked Nate Beeler's cartoon from Caglecartoons.com because it's a two-fer: a sporting match plus an international cartoon about Israel! As far as I know, Israel wasn't actually dissed at the games, but that's not my arena.
As an artist, I was impressed with the limited number of colors here, while also showing different uniforms, and legs going all which way. Nice, Nate!
I have a couple of runner up cartoons. Obviously, the oil spill is the big big story, and I plan a nice roundup of the best BP oil cartoons later this week, but I also wanted to include one here, just because it's such an important story.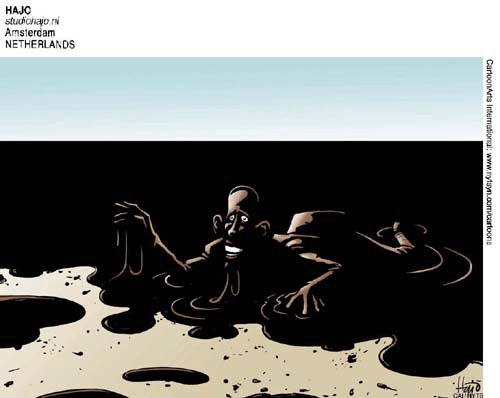 Nice oil spill cartoon from Hajo, of the Netherlands and gocomics.com, with Obama as the oil victim instead of the pelicans. The oil looks particularly viscous and disgusting here, which is as it should be.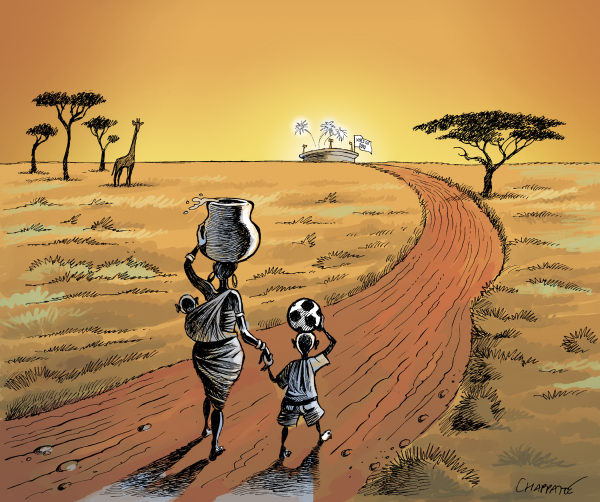 An alternate soccer games cartoon. This is a beautiful cartoon by Patrick Chappatte from political cartoons.com about the soccer games. I didn't know the games were in Africa until I saw this, and what an exquisite way to make the point!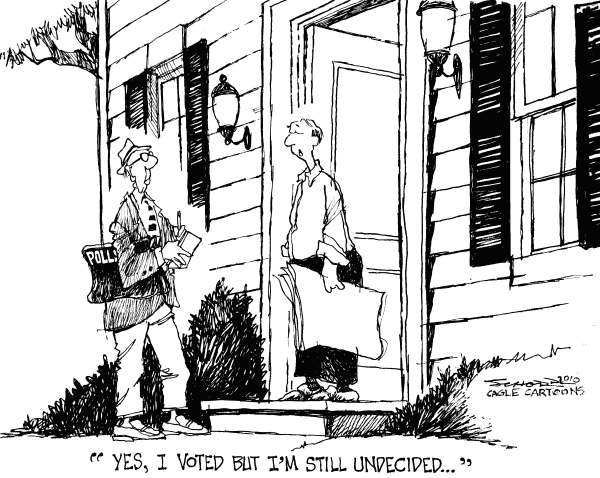 Voting is over, but this cartoon by Bill Schorr still made me laugh! He titled it: Unconvinced. Wishy-washy would work as well. This is really a New Yorker type cartoon, so it's not right for the LA Times. On the other hand, Joel Pett continues to pick serious, not funny or creative cartoons for the print edition of the LA Times, so you'll have to decide: laugh or cry?
Many thanks to the talented creative cartoonists who make our life better, and allow us to look at the news in a new way, and to gocomics.com and politicalcartoons.com who feel the same wonder towards cartoonists, even though I think they could pay a teensy bit more to us in their appreciation.
My own recent cartoons: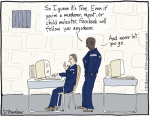 Hey, you have to do something with all that free time. Comments on Facebook in prison here. (Sorry, no link now. Uclick threw away 2 years of my cartoons on Slate, Gocomics and Yahoo News when they kicked me out of Gocomics.)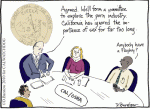 Porn (pron?) in Van Nuys? Say it ain't so. Comments on porn here. (no link, read above)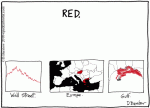 What's red all over? Comments on this strange cartoon here. (No link, read above)
As always, if you are a cartoonist and would like to submit one new cartoon a week, please do. And if anyone has a different opinion on these cartoons, fire away. All cartoons here are copyrighted by the respective cartoonists, and cannot be used without permission.