I had a rough week, so sorry about that. Could this be why I couldn't find any funny cartoons for the third week of May?! Maybe! I did find some clever ones, however, and clever is a close cousin to funny.
Of course, the PB oil spill continues to be the biggest story around. In one way, I'm happy about that, but before you label me an oil-hugger, let me explain that it's because environmental issues, or green, as the kids call them, are almost always B or C stories in the news. Just blips most of the time. And now everyone is seeing what a terrible natural disaster (MANMADE, you BP asshats) does to the whole world.
Also, this is a great issue for cartoonists to dive into. Yes, it took an oil spill tragedy to get cartoonists to STOP dwelling on Sarah Palin. You forgot about sniping on her for a while, didn't you, guys? SNAP.
Speaking of, I'll do another oil cartoon roundup later this week, as there are a couple of great cartoons on that, but will focus on other news with this LA Times editorial cartoons selection.
I thought I knew what incumbents are – those people already in office- but wondered why there were a number of cartoons about them recently. Ask and ye shall receive. Half hour ago from the LA Times:
Discontent with incumbents and anti-Washington anger are adding up to a potentially record-breaking crowd of congressional challengers this election year.

More than 2,300 people are running for the House and Senate in the midterms, the highest number in at least 35 years…
Like Senator Specter was tossed out on his heinie. Well, there aren't any dramatic incumbents in California, but I think LA needs to think about other cultures, like the East Coast, more. Like this homeless man. He's very rude, which is natural back there. Nobody in LA would ever talk like this, nor would they throw food. ( I thought this was a general wearing medals at first, but now I see that it's fruit on his suit.) However, we've all worked on or visited a movie set, so we get the pandering part.
Nice colors, Nate Beeler!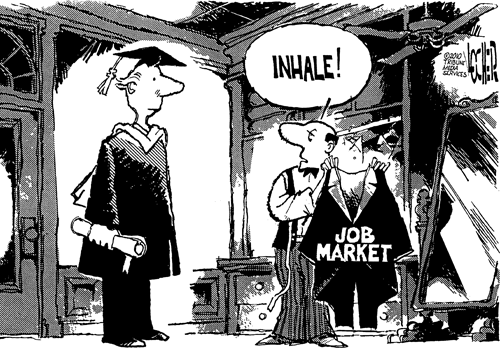 Lotsa people looking for graduation cartoons lately. I liked this one by Dick Locher, as it didn't have the usual stage with graduates setup. Location is king! Plus, I've never been to a tailor, but I like the details from an old department store. And clever use of just one word. I think this would have been better in color, however.
Time for an international cartoon for the great LA Times! I love this purposely stiff, comic-book style cartoon by Rainer Hachfeld! Obviously, it's about nuclear energy, and it must be a very important news item, but mostly I love the amusing way the men toss the nuclear bombs back and forth without the guy in the middle even noticing! Oh, okay, these European cartoonists really know their stuff, and I don't want to be an ignorant slut Angeleno, so off I run to Google to try to figure out who these men are. I do recognize Ahmadinejad – I think – from a previous cartoon, and the other 2 guys are…Recep Tayyip Erdogan and Luiz Inácio Lula da Silva, suggests the New York Times.
I'm not going to read the whole thing.
But it looks like all 3 of them know about the nuclear weapons, including the guy in the middle. Was funnier the way I interpreted it. Note how the nuclear symbol switches from black to white according to its placement in the drawing. Very nice, Rainer! This is the kind of cartoon the LA Times should use as illustration, instead of the forgettable ones it has now. It would look fine at any size, it actually has something to do with the news, and it's a very compelling visual.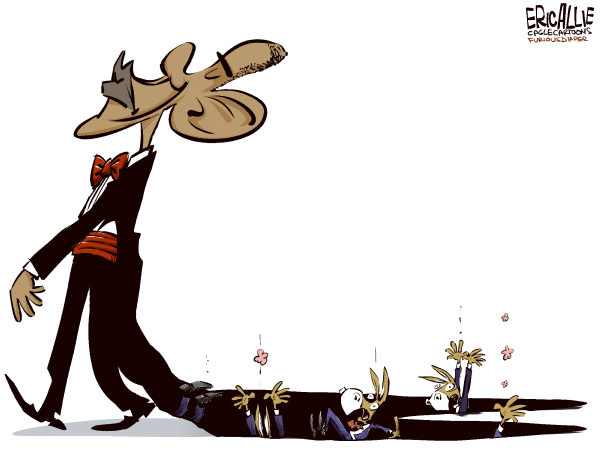 I saved the best for last! I was so taken by this arresting cartoon by Eric Allie that I think my heart beat faster! Wow. Turning the black coattails into a pit in hell is pretty scary. I'm not sure if this is supposed to be oil or not, but that makes it even more intriguing. I mean, why is Obama dressed up in black tie, anyway? And will the Dems suffer this badly in his wake that they'll go under? Great cartoon, Eric.
Great job, everyone, and thanks to Politicalcartoons.com and Gocomics.com (where you USED TO see my new ones each week) for continuing to employ such talented cartoonists. Later this week: more BP oil cartoons!
Captions for Google:
Get a real job, ya freeloader! Sign: incumbent, will pander for re-election. 3 world leaders from Turkey, Iran, and Brazil toss nuclear footballs around. Graduate has to suck it up for a limited job market – set at the tailor in a department store. Obama has Democrats struggling for their lives, riding on his coattails.
My recent cartoons: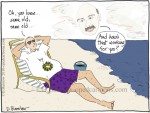 Comments on Dr. Phil here. (Sorry, no link now. Uclick threw away 2 years of my cartoons on Slate, Gocomics and Yahoo News when they kicked me out of Gocomics.)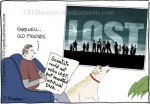 So sad to see LOST go! Comments on Lost cartoon here. (NO LINK, read above)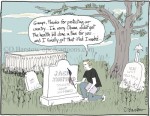 Comments on grave and ipad here. (NO LINK, read above)
Thanks again to all the talented clever cartoonists I was able to include this week, and good luck for next weeks' picks for the LA Times Opinion section!
Remember, if you want me to consider your work, the guidelines are here, as well as why I started this project: the Times needs a Los Angeles cartoon editor for the Los Angeles Times.