Of course, the two big stories this week are British Petroleum's lies-and-dereliction-of-duties oil spill, and Arizona's bill to curb illegal immigration. (Oh, and my car accident, but that's big only to the people involved, and certainly won't be mentioned in this week's news for the Los Angeles Times… )Also, the Greek economy meltdown. I didn't even know about it until I started reviewing cartoons for my competition here, and it's kind of obvious that the American cartoonists don't understand any more about it than I do, so hopefully we can include that next week.
The oil spill got me the maddest, so let's start with that. The media kept calling it An oil spill, as if it were natural, and not a huge MANMADE disaster by BP, which is cleverly hiding its name: British Petroleum.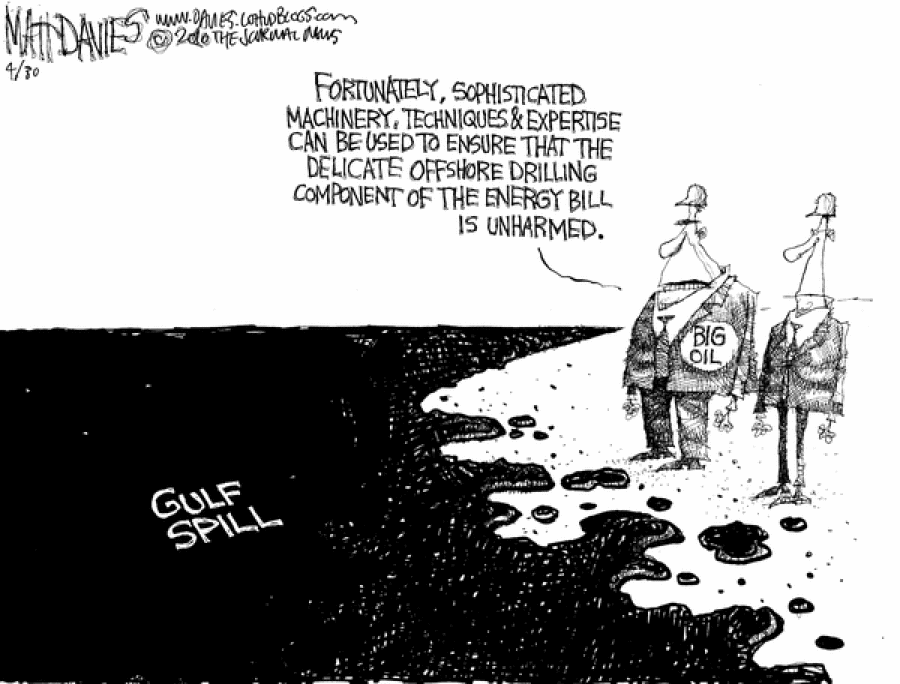 Some very good cartoons are starting to come in – Signe Wilkinson perhaps the best so far, and certainly more moderate than mine on Friday! – but I chose this one by Davies for the Times. I just love a little sarcasm with my coffee! And Matt Davies' style certainly matches the subject. I would have dropped the labels, which I'm sure he added just out of habit. I mean, who can't tell it's oil? Nice round edges of the thick chemical crawling up the beach.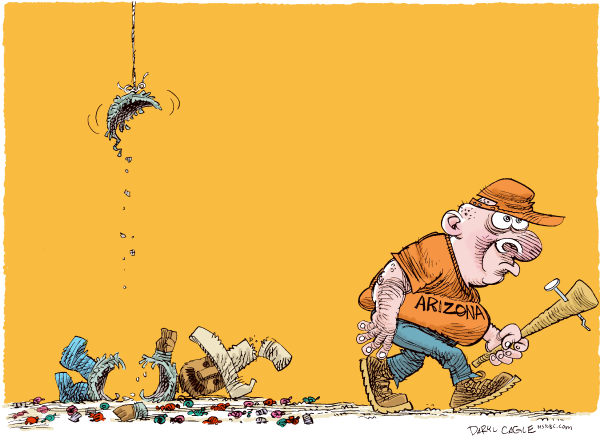 It's funny, Daryl is quite mild-mannered in person, and also reasonable and fair. He's a good person to run Political Cartoons.com, and I've told the Times he would also make an excellent cartoon editor there. Yet his cartoons are often rather violent, so there may be another side to him! Here is an excellent example, with a huge nail embedded on the stick held by Arizona, and the destroyed pinata looking like a possible corpse with a sombrero… Daryl is very liberal, and, well, you'll have to interpret this one for yourselves.
Great colors and design, Daryl! And we certainly need more cartoons about candy.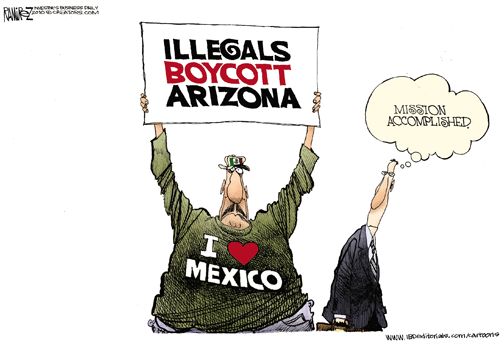 I found this cartoon amusing! This is the 2nd cartoon of Michael's that I've chosen – he was the last editorial cartoonist for the LA Times before they decided to drop cartoons as a regular, important feature.  Immigration is a huge issue in California, of course, and both Daryl and Michael are locals, so I think it's only fitting that their cartoons are spot on for this Times roundup. (Michael Ramirez is conservative, and I wanted a take opposite Daryl's, so that's why there are 5 cartoons in this collection rather than 4.) Michael is Hispanic himself (I assume, and also having met him) so it's a particularly interesting perspective, and one I haven't seen anywhere else. Oh, and I agree with it.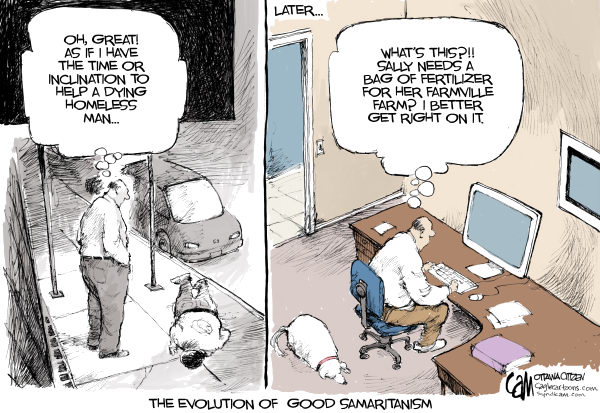 Because we had some big upsetting issues this week, I thought I would throw in Cameron Cardow's cartoon on a more human story – the homeless man who acted as a Good Samaritan and then died as everyone ignored him.
Police say the 31-year-old was stabbed to death after intervening in an argument between a man and a woman. In a video released late last week, Hugo Alfredo Tale-Yax is seen falling to the ground in Queens after intervening in a fight and running after the suspect.

For nearly an hour, he lay on the ground as passers-by turn their heads to look at him, gawk or pause and walk off.
Is not this one funny?! I laughed out loud! In fact, out of the 300 or so cartoons I reviewed for this roundup, this is the only one that made me laugh. Maybe you have to be on Facebook to get it, but that is exactly how that stupid Farmville stuff works!
Well, it's not exactly unusual to ignore a homeless man on the sidewalk. But I'm pretty sure Los Angelenos fancy themselves kinder than New Yorkers, so they'll enjoy doing a little quiet gloating.
I like Cameron's style a lot, and what a nice example of good perspective. I often disagree with his politics, so we've gotten into some tiffs on Facebook, however. :)
For Honorable Mention this week, here's another cartoonist from Canada: Clement, the cartoonist with one name. I've seen some very good cartoons on Goldman Sachs – Sleazeballs, Inc – , but of course they all say the same thing: GS is bad. This cartoon is rather an odd juxtaposition of both Goldman Sachs and the Iceland volcano. Well, Goldman Sachs did erupt. But mostly I just liked the look of this beautiful little watercolor (or Photoshop facsimile), and darn it, the LA Times deserves some good artwork! Dig those leaning buildings, too. Thanks, Clement!
As always, thanks to everyone for several hours of amusement, surprise and occasional delight this week. How and why I am doing these roundups is explained here, as well as how to submit your own cartoons.
My own cartoons this week: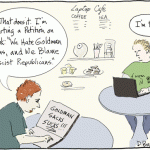 Comments on Facebook cartoon are here. (Sorry, no link now. Uclick threw away 2 years of my cartoons on Slate, Gocomics and Yahoo News when they kicked me out of Gocomics.)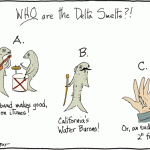 Comments on fish cartoon are here. (no link now, see above)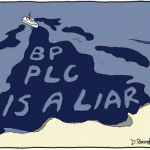 Comments on first PB oil cartoon ever published!
And your own comments and critiques of the cartoons are most welcome!
Captions for blind Google:
Oh great. As if I have the time or inclination to help a dying homeless man…What's this? Sally needs a bag of fertilizer for her Farmville Farm? I better get right on it.
Fortunately, sophisticated machinery, techniques & expertise can be used to ensure that the delicate offshore drilling component of the energy bill is unharmed. Big Oil.
Arizona swings at Mexican pinata, Goldman Sachs erupts like volcano
I love Mexico immigrant has Illegals Boycott Arizona sign and guy says Mission Accomplished.

Delta smelts in California waterways, bp plc is a liar about oil spill, goldman sachs facebook group