Last week Joel Pett included a cartoon from Pulitzer Prize 2010 winner Mark Fiore in his selection of cartoons for the LA Times. He had to go back 10 years to find a cartoon by Fiore. This is because Fiore is an animator now, not a cartoonist, and hasn't done cartoons for years. Is the Pulitzer Prize committee so terrified of the direction of journalism that they have to give an editorial prize to a MOVIE? Apparently, yes.
(Animation is included in the Academy Awards because it is a movie. It's not in print anywhere, because it's a movie. It has pages of dialogue, sound, music, voices, and much movie software because it's a movie. It's only in a handful of venues online because it uses up a hella lot of bandwidth, since it's a movie.)
It looks like the Pulitzer judges can no longer be trusted to judge cartoons. I'm going to look into this further, and if this is the case, I'll do my own judging for the Pulitzers next year, thanks.
Back to this week's REAL cartoons that I think are best for the Los Angeles Times!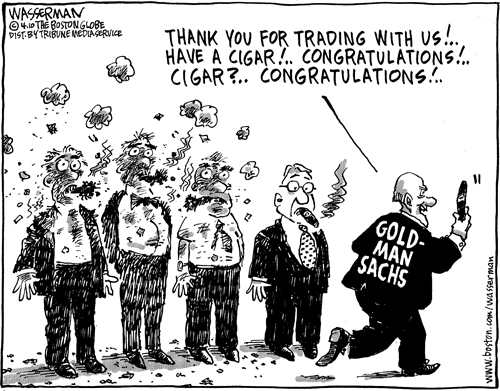 Dan Wasserman of Gocomics has a sly sense of humor! I liked one of his for last week's roundup, too. Of course, he could have included a woman in the lineup, but that would just be icing on the cake. I am so ticked off at Goldman Sachs I could scream, as my grandmother would say. Humor is just a way of quieting the rage, while still drawing an excellent picture of how Goldman Sachs screwed the public. Again.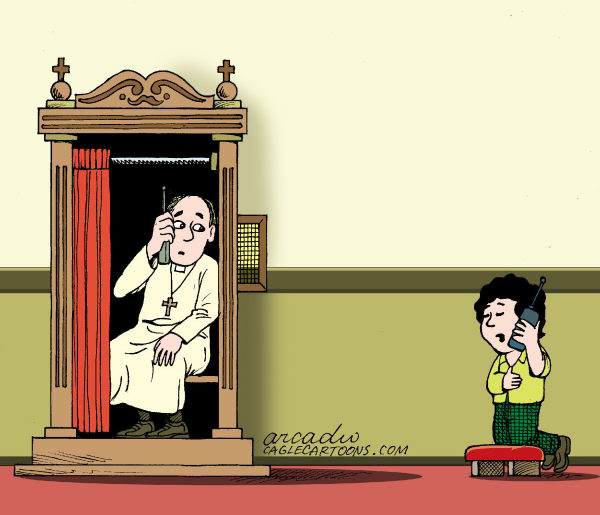 Here's a great wordless cartoon by Arcadio Esquivel, of Mexico, I think, from Cagle Cartoons. Look at how the olive green and muted red bounce off each other! The cell phones look kind of dated…from 5 years ago? I wonder if priests really wear lemon colored tunics in other countries… No matter. Great illustration and comment. Since whites are now a minority in LA, I imagine Catholicism is the biggest religion, though I'm too lazy to look it up. Even so, the LA Times hates skeevy and anything too controversial, even when the whole subject is vulgar and disgusting, so they'll love this one. :)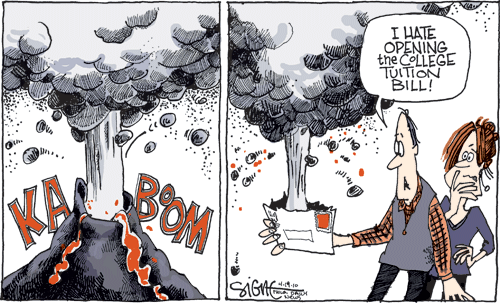 Signe Wilkinson of Gocomics.com is one of my top 3 favorite cartoonists. The drawing is spot on, and love the colors. I saw several cartoons by other guys, while researching for this post, that used the Iceland volcanic ash to illustrate ideas like the economy, Goldman Sachs, war, etc. All viable. I think comparing it to the high cost of college is a bit of a stretch, but I'm not a parent, so maybe this is the time of year when tuition bills come due.
Also, I wanted to include this because education topics bore me, in general, but I'm trying to be more well-rounded, since this is for the TIMES.
Last, for Honorable Mention: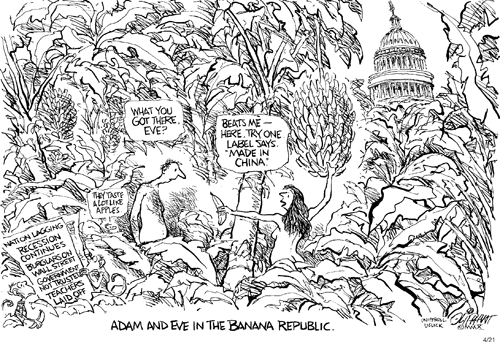 Okay, full disclosure: I can't stand Oliphant. I think it's okay to say it here, because he's so popular nothing I say will make a difference, or hurt him, and I doubt he's online much, if ever, so there you go.
He's #3 in popularity in Gomics. And when I started there, for Slate, even one of the editors (not mine) said that Oliphant was his favorite! Uh-oh, I thought. He couldn't be farther from what I wanted to do if he tried.
However, this particular cartoon caught my casual attention twice during the week, and since I may not like another of his cartoons for months, and the LA Times deserves the best cartoonists – and he did win a Pulitzer – back when it meant something, and didn't include animation desperation- I want to include it here. I really like the jungle drawing, and the title at the bottom. Now, Banana Republic is one of my favorite stores, so I thought he meant two naked people wanted to go to Banana Republic to get new clothes. (It's good to be a girl.) Twice I thought this, and wondered if the store was using illegal labor or something, which they are pretty clear about NOT doing.
But examining it more closely today, I think it is something about a banana republic, the political term. I haven't heard that expression for a while and don't have time to look it up on Wiki. She's handing Adam a banana. I can see that. If you squint you can see one of those really annoying PSs he does that I never bother to read- it says they taste like apples.
I have no idea what this cartoon means. But here's your Pat Oliphant cartoon, LA Times.
My own cartoons this week: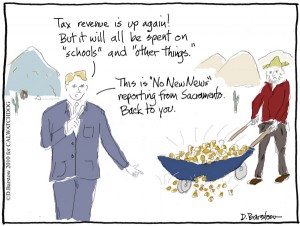 Comments on schools in California. (Sorry, no link now. Uclick threw away 2 years of my cartoons on Slate, Gocomics and Yahoo News when they kicked me out of Gocomics.)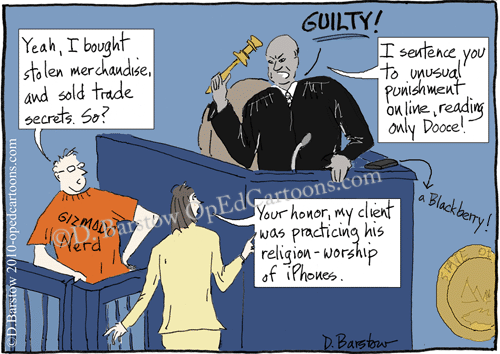 Comments on Gizmodo and stolen iPhone. (Front page of Slate all weekend!) (Sorry, no link now.)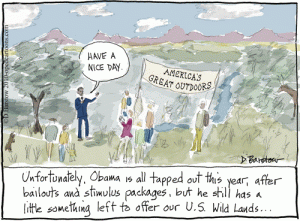 Comments on Obama as cheapskate for wild lands (Sorry, no link now.)(which appears in the Sunday LA Daily News (rival of LA Times) today because they have a great editor there! :))
An explanation of why I'm doing this collection each week, and how you can submit your own cartoon, is here.
Captions spelled out for Google: Kaboom. I hate opening the college tuition bill. Child confesses to priest from across the room. Thank you for trading with us! Have a cigar! Congratulations! Cigar? Congratulations! Goldman Sachs. Adam and Eve in the Banana Republic. What you got there, Eve? Beats me – here, try one. Label says "Made in China." They taste like apples. Nation lagging, recession continues, etc.
What do you think of this collection? Were these the best cartoons you found this week?