Here's a cartoon about Obama's blue jeans.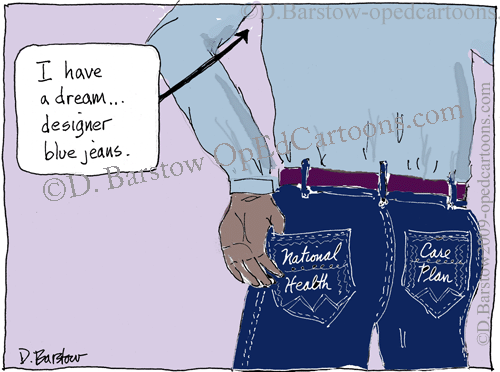 I read something about the frou-ha-ha – something about Obama's blue jeans not being fashionable.
From USA Today:
Fashion bloggers have been, to borrow Obama's word, "cracking" on the jeans he wore last Tuesday to toss out the first pitch at baseball's All-Star Game.

"For those of you who, you know, want your president to, you know, look great in his tight jeans — I'm sorry, I'm not the guy," Obama told Meredith Viera of NBC's Today show.
First of all, I never heard of the word cracking.  Is that black vernacular? Chicago lingo? The link goes to the Chicago Tribune.
Fashion bloggers are throwing spitballs at the high-waisted "mom jeans" President Barack Obama wore when he threw out the first pitch at baseball's All-Star Game this week.
When I heard about mom jeans, I always thought they meant Michelle. I think Obama's jeans look pretty good, at least in the photo below, but maybe this proves I'm out of it.
I

n any case, Los Angeles is the home of very expensive, chi-chi jeans, for men as well as women. To add to my tremendous ignorance on this subject – and we're up to strike 3 on this, if anyone's counting, I didn't know this either until my friend Melinda confessed that she has something like 30 pairs of really really expensive jeans, and keeps buying. Her philosophy is that if they bag out in a day the store won't take them back, since they're worn, so she just buys more!!
Offhand, the only brands I can remember are 7 Jeans, Citizens of Humanity (for liberals?) and True Religion. Melinda can tell you any brand someone has on! Some have fancy stitching on the pockets which is like, whatever, to me. I can embroider and sew, so not that big a deal.
Anyway, back to the cartoon: just like Martin Luther King, President Obama has a dream, too: the health care plan, his way. At first I hated it, then I liked parts, and now it just looks like a big mess.
Everyone deserves a pair of great jeans, so good luck with that one, Barack.