For the Friday before Thanksgiving, one of my favorite cartoons this year!!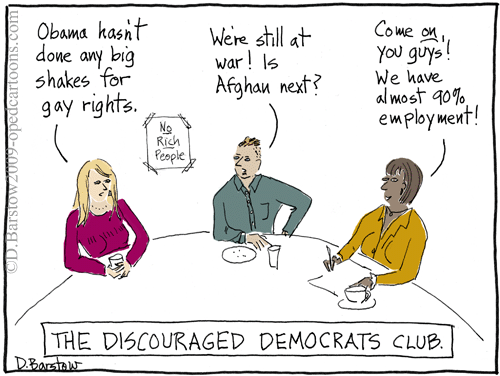 You know who inspired me to do this cartoon? Two liberal cartoonists, Ted Rall and Rob Tornoe.  Ted writes about the war and other things making him itchy about Obama – he's just not a fan this year! And Rob has issues with gay rights. BIG ones. I'll post a couple of his gay cartoons later this week.
Anyway, they are just so annoyed, I felt I had to rub it in with this cartoon. :)
Cartoon caption: THE DISCOURAGED DEMOCRATS CLUB. No rich people. Obama hasn't done any big shakes for gay rights. We're still at war! Is Afghanistan next? Come ON, you guys! We have almost 90% employment!
Are you one of them?
I think it's the no rich people that makes me laugh the hardest. Dems hate rich people!