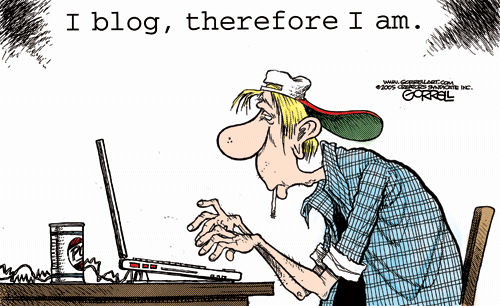 To see original, and possibly comments on Gocomics: here.
What can I say? This "trend" of blogging is about 5 years too old, yet the cartoon was done just yesterday. I don't know this cartoonist, but he worked at a paper and now he's syndicated. He doesn't look that old…and yet…ah, gee, this is just so bad.
I won't even comment on it being a nerd. Has he checked out MSM lately? Or SAHMs who I think are the biggest growing group of bloggers in the world? (And so happy I don't read them!)
I've been commenting on blogs for 5 years or more – I can't remember. Have had blogs of my own for 2 years – this is my 3rd.
One certainly doesn't have to have a blog – although they're fun – but to call it news in any way??? Worthy of mentioning in the paper? Gee, maybe I should try syndication. It must be so hard to do.
I hope I'm not being too mean.