We did. Los Angeles did. I'm so disgusted by this ostentatious funeral/memorial display! Shutting down part of the city, motor cascade, stars mouthing off, TV show, news coverage, blah blah blah. Not to mention the WASTE of money, when California is completely broke, with layoffs, warnings, etc by the state.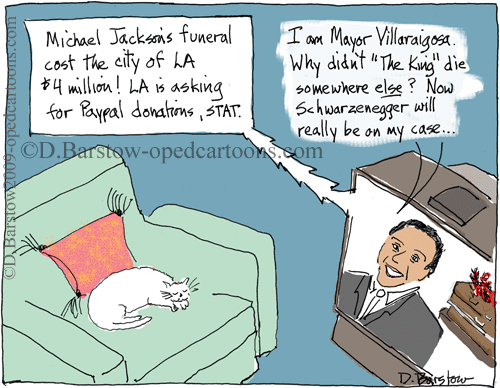 No doubt Michael Jackson would have loved it. I'm embarrassed to be living in this city. Doesn't LA asking for Paypal donations sound like a cartoon or joke all by itself? But it's true! Los Angeles is a dreamer, all right.
This cartoon is kind of an in-joke to Californians: Mayor Villaraigosa was gone, touring, traveling, who knows what, during the whole Michael debacle. He's out of the city a whole hella lot. I have no idea if he and Schwarzenegger are friends, enemies, BFF, or avoid each other. Fun to imagine, though.
Here, some Facebook friends and I discuss the issue:  
Me: I find it revolting that part of LA was shut down, and tickets were given out through a LOTTERY for a singer who retired and lived abroad. I hope he's out of the news now so I don't have to do a cartoon about MJ.

J. MJ was an icon. You can't deny him that. Celebrated pedophile, yes, but he did live in California for quite a while. It is what it is.

G. He never retired, Donna. He retreated. And what's wrong with holding a lottery? You can always turn off the TV.
Like him or not, stars don't get any bigger and there is no denying his talent and contribution to humanitarian causes. As for the charges and accusations that were brought against him, we live in a country where a person is innocent… Read More until proven guilty. I don't know what truly went on in Jackson's personal life. He may have been a pedophile or he may have been a childish man with a kind heart who exercised some very bad judgment.
The bottom line is that the world lost an icon. Fortunately, he left us the gift of his music.

J: Clever PR? Oh God, Donna…. the guy is dead. :(

G:  You're just chomping at the bit to do an MJ cartoon, aren't you?
This is going to get interesting.

Me: Both of you brought up that he was a pedophile! Not me. I don't believe it.
What I do believe is that the entire SPECTACLE, televised funeral, memorial, TICKETS was all carefully orchestrated, and I really resent all this excess manufactured adoration that is treating him like some kind of saint. I don't find him interesting, and his funeral is certainly not worthy of this hype.

J:He was amazing. He was a pedophile. He had addictions. He was a human.
Jesus said he who is without sin may cast the first stone.

Famous New Yorker Cartoonist: Oh, oh…tell me that's not MJ's portrait they're carving on Mt. Rushmore.

Me: Rev Sharpton wants to make it a national holiday! Oh, PLEASE.

G: I was addressing J's comment, not yours, Donna, when I replied about the accusations.
It's not "manufactured adoration" and I don't see him being "sainted." (In fact, I was surprised that one of the speakers at the memorial mentioned the negative aspects of Jackson's life.) His music MOVED generations of people, all over the world. People are genuinely, deeply saddened by his passing.
As for the so-called "spectacle," have you forgotten that The Jacksons are a show business family and AEG a leading entertainment company? Of course, the memorial was carefully orchestrated. Events of this magnitude and caliber don't happen by accident. From a business aspect, with a stake in their fallen superstar, I'm sure AEG wants to boost public interest for future DVD sales. And The Jackson Estate has many outstanding debts to pay…. Read More
But NONE of this diminishes Jackson's impact and legacy as a performer. And billions of people find him worthy of this grand farewell.
Not me. Now, get out of the news, Michael.
* LAObserved reports that the Mayor has stopped begging for money at Twitter. No word on if the Paypal Donation requests remain up. :)