One of the sites that I never go to -oh, perhaps once every couple months, if I must – is Huffington Post. Or as I call it, PuffPost. I remember when it started – Arianna Huffington had parties out here, got bloggers together. But it was super-liberal, so I never paid much attention to it.
All they do is rewrite real journalists, or use the news verbatim published elsewhere, and slap a provocative (and usually misleading) title on it. Now PuffPo has gone local, with a Los Angeles subsection. Watch out, LA Times, for plagiarism and attribution without links.
But the part I take personally is that they don't pay anyone!! They are the biggest blog in the country now, if not the world, run by one of the richest women. Check out this article in the LA Times. Arianna Huffington is quoted:
Huffington said ads will run on the site, and the Huffington Post and Causecast will split the ad revenue. Any money donated to any cause goes directly to the cause, with nothing coming out of it.

Her site continues to expand, reinvesting its proceeds in the product. "We've had a very, very good advertising year," she said. "We would be in the black if we were not expanding. Whether you are profitable or not depends whether you're standing still or expanding. This is a window we need to take advantage of."
The article is about how the PuffPost is adding a bunch of news about causes, called Impact, because they're so liberal and they want to help. Well, wanting to help is a good thing. Yet…her own writers and worker bees get NOTHING, NO MONEY, in their best year yet!  Yet she wants them to donate from their non-existent wages. This doesn't sound liberal to me, it sounds like a medieval caste system. Ugh, PuffPo is pathetic.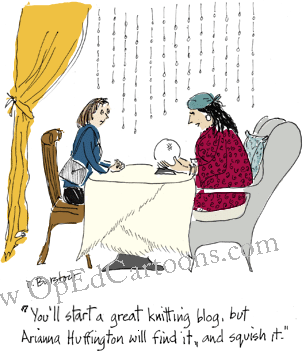 It's been a cliche for a few years now – everyone online loves to write how they never read a real newspaper anymore. Like this is something rare, unusual, and quite cool. They have Twitter, all the news websites, social media, etc, and newspapers are dead. Um, yeah, right.