One cartoon, two versions, about a shocking event in 2009 – President Obama deciding to continue the war. Wow.
I missed the 60 Minutes interview the LA Times is talking about here. (Is that show still on the air?)
Discussing in strikingly personal terms his order to escalate the war in Afghanistan, President Obama said Sunday that sending 30,000 new combat troops was the hardest decision of his presidency so far.
Can you understand now why I get so annoyed with the Times? WTH, "strikingly personal"??? Because he said he felt bad talking to the cadets? Geez, what a revelation.
It goes on:
Critics have said his plan is confusing and contradictory because although it calls for the new deployment, it also sets a July 2011 date to start withdrawing troops.
I don't know about contradictory, but I've found that the best way to broadcast your intentions, leak your war plans, and help out the enemy is to put the details on Twitter, Mr. President.
(another version of the cartoon is after the jump)
CNN says:
In his speech Tuesday, Obama said his strategy had three objectives:

• Deny al Qaeda a safe haven

• Reverse the Taliban's momentum and deny it the ability to overthrow Afghanistan's government

• Strengthen Afghanistan's security forces and government
I hope it works out that way. This is a DayPlanner type strategy, isn't it.
Barack Obama, International cartoons
Here's a cartoon about Obama's blue jeans.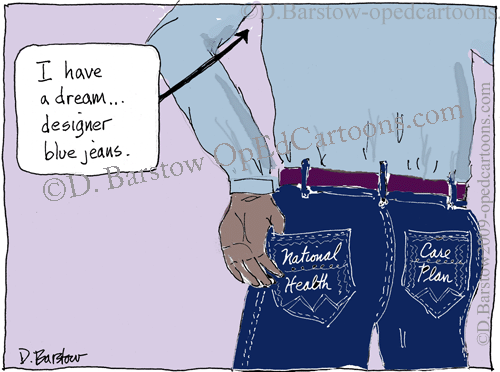 I read something about the frou-ha-ha – something about Obama's blue jeans not being fashionable.
From USA Today:
Fashion bloggers have been, to borrow Obama's word, "cracking" on the jeans he wore last Tuesday to toss out the first pitch at baseball's All-Star Game.

"For those of you who, you know, want your president to, you know, look great in his tight jeans — I'm sorry, I'm not the guy," Obama told Meredith Viera of NBC's Today show.
First of all, I never heard of the word cracking.  Is that black vernacular? Chicago lingo? The link goes to the Chicago Tribune.