Copyright infringement is a federal crime!
Fair Use vs Stealing
I recently had a problem with an unenlightened, uneducated and low-class site who stole (and are stealing)  a lot of my cartoons.

They are a "humor" site, and they stole many dozens of my cartoons (which explains why this site was down for the last 10 days). I will deal with them separately, when my investigation is done, but because they were so very stupid, I wanted to try to explain Fair Use to my smart readers here!
Very very briefly, there are 4 rules of Fair use:
1. Purpose (entertainment, or education?)
2. Type of work (news, fiction, art)
3. Amount used in comparison to whole work
4. Monetary effect on creator
Examples of Fair Use
Here are some examples of Good Fair Use from the excellent Stanford Fair Use site :
    quoting a few lines from a Bob Dylan song in a music review
    summarizing and quoting from a medical article on prostate cancer in a news report
    copying a few paragraphs from a news article for use by a teacher or student in a lesson, or
    copying a portion of a Sports Illustrated magazine article for use in a related court case.
They added:
The underlying rationale of this rule is that the public reaps benefits from your review, which is enhanced by including some of the copyrighted material.
In other words, you use only enough of the article, art, or cartoon, to give a fair review. Your purpose is to REVIEW, not TAKE. In the case of art or a cartoon, you would link to the cartoon, or include only a part of it (just as you see just a detail of classic paintings in art books). If your purpose is to entertain your audience with a cartoon, or be entertained, however, buy the damn cartoon, or else it's copyright infringement.
In the title bar at the top you can see the complete title of this blog: Best editorial cartoons….interpretation and explanation included.  Most people don't understand political cartoons, as shown by the fact that over 50% of my visitors are from schools & universities.This blog is educational, which is a huge part of Fair Use. I review fictional cartoons based on the news, I use a small, not printable size, and I always link to, mention by name, and otherwise promote the creator and the publisher. I would also take down any cartoon that a cartoonist does not want displayed here, but that has never happened.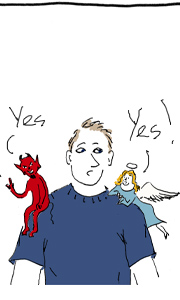 In addition, I get PERMISSION from the publisher or creator. Because I am reviewing cartoons (just like a book reviewer) this is Fair Use, even if I don't get permission. But I do it, anyway, because it's the right thing to do.
I haven't done many LA Times cartoons reviews recently, but I notice Daryl Cagle copied my format in his blog, and also picked a few cartoons by others to review each week. (However, this is very time-consuming and a lot of work, so he doesn't do it anymore either, and just posts a slideshow!)
Of course, there are some sites that have free clip art, I think, and a lot of clip art comes with some software programs. Or you could draw something yourself. :) So you have those alternatives, too.
If you lift cartoons for any other reason than Fair Use – because you feel stupid that day, you're lazy, you don't have a subject to write about, you're jealous of cartoonists, you have a big hole in your post to fill, or you have a liberal hate site – you are breaking copyright law and can be prosecuted. And you will be. Not to mention how embarrassing it is when your host tells you they are removing the copyrighted material you took!
Q & A on Fair Use
What about if I use it on Facebook? Link to it or Like it! It will still show up as a thumbnail on your Timeline. Otherwise, buy the cartoon. There's no freebie for Facebook.

But I left the cartoonist's signature in there! So what? How does that pay her bills that month? How does he know where it's been used? If it's showing up everywhere, she just lost a sale and do you really want the cartoonist to spend hours tracking you down?

I got the cartoon from someone else. On Facebook. Don't be a doobie. The other person is either ignorant or a thief, but you don't have to be!

I found the cartoon on Google images. Other people must be using it. No, that just means the artist or cartoonist was generous enough to post it on his or her website for you to enjoy, and Google scanned it. Google doesn't own any cartoons!!! Every cartoon belongs only to the cartoonist. No cartoon that you find on Google is free. Let me repeat that: NO CARTOON ON GOOGLE IS FREE.
Buying Cartoons
The great majority of readers will want to buy cartoons anyway for their powerpoint, presentations, newspapers, textbooks, etc.  Fair Use criteria  is difficult to meet, and it's easy to prove negligence. Also, most readers and writers are good people! It's quick & simple to buy cartoons, and here's how. Thanks for understanding, & feel free to ask questions!