Will BP PLC do anything they promised? We'll see. I wish they'd save the money they spend on their TV ads, and spend it by helping clean up their mess, but that ship has already sailed. Losers.
Nothing funny about this environmental and financial disaster, but cartoonists have a way of pointing their pens towards BP's negligence in a way that the newspapers and sources have only begun to do the last month or so. News sites were so neutral before, it was disgusting! That's not reporting, that's siding with the enemy! I think cartoonists are more honest.
The great eight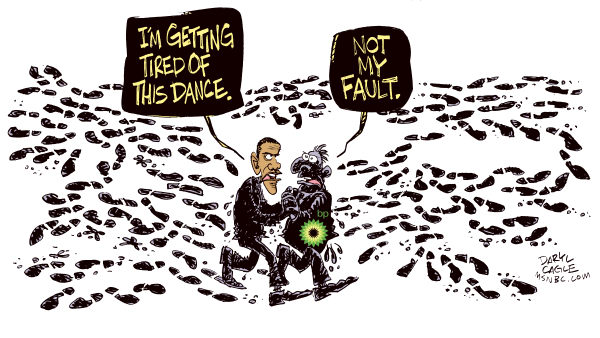 I was really impressed by Daryl Cagle's cartoon of Obama dancing with the devil BP (who looks rather like a Smurf. And is that a Snidely Whiplash mustache on Obama?) I've seen dancing steps before, but not in oil!
Side note: I wonder if Daryl is a fan of Dancing with the Stars…:)
mike scott cartoon on the blame game in the oil spill
I found a few clever cartoons on who bears the ultimate responsibility for this tragedy, but I chose this one by Mike Scott because it's not just a blame game – there is horror in those grey faces. Halliburton is obviously Frankenstein! Does Mike have a special issue with them?! I like the quiet colors and the hand-lettered red title at the top. Different. From Cagle.
steve benson cartoon on tony hayward wanting to get his life back
And we go from horror to a beheading! What is a good collection of cartoons without some morbid chuckles? I really laughed at this.
And in case you haven't guessed, now you know for sure that I'm not selecting these particular oil cartoons for my LA Times editorial  roundup. (That comes next time.) This cartoon would not be proper for the Times, I assure you! But it's just right for us here in the bleachers. (And just to show you how neutral I am as a (self-appointed) editor for the LA Times, Steve and his good friend Ted Rall were judges on a small contest of editorial cartoons, and when they were informed that I was to join them as a judge, they told the foundation that "they would walk." Nice.) From Gocomics.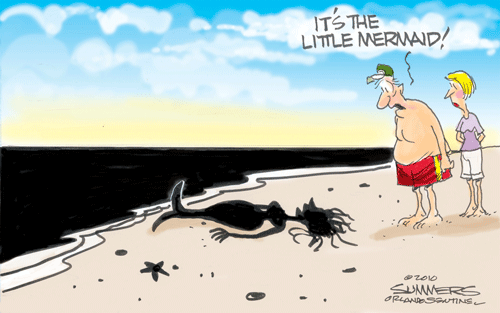 Dana Summer's cartoon of the little Mermaid drowned in oil made me laugh! So much more amusing than dead pelicans, which are WAY overdone, guys, and also very sad. And who doesn't like a joke at Disney's expense? I like Dana, who also does a comic strip, which I forget the name of, but this cartoon is another that wouldn't be right for the LA Times. More of Dana at gocomics.com.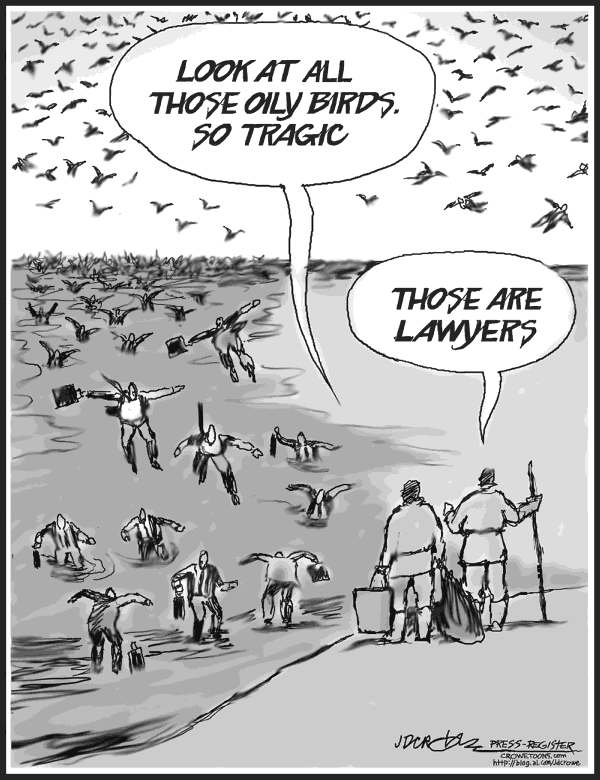 I love these flying lawyers! It took me a minute to understand what was going on here, but this is a wonderful piece of art by J. D. Crowe, as the lawyers morph into birds of prey. I like the subtlety of  these mid greys; it would have been natural to paint the lawyers in dark suits, to have them stand out in the water, but this is far more effective. And I like the way there's no punctuation in the captions, as if the men are thinking, not speaking. From Cagle cartoons. PS, I like lawyers, in case I'm involved in any lawsuits right now…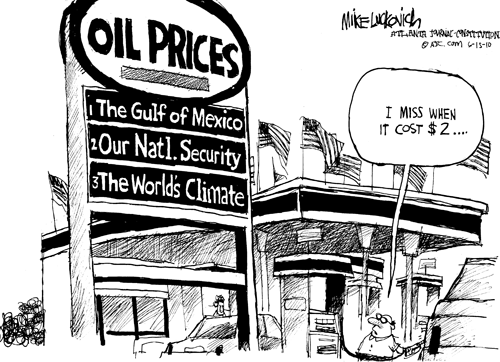 I picked this cartoon by Mike Luckovich to illustrate oil in the eyes of the consumer. I like this – Mike is an excellent cartoonist – but to my way of thinking, this is only half done! He should have added the loss of life – both man and animals. And this would have been much much better in color. Why do so many cartoonists hold back from color? Because it takes a lot more time – probably tripling the cartoon-hours. And that's not just photoshop, that's decisions and contemplation. Big guys like him don't need color for the newspapers, but most artists should, if they're going to go that new-fangled internet route.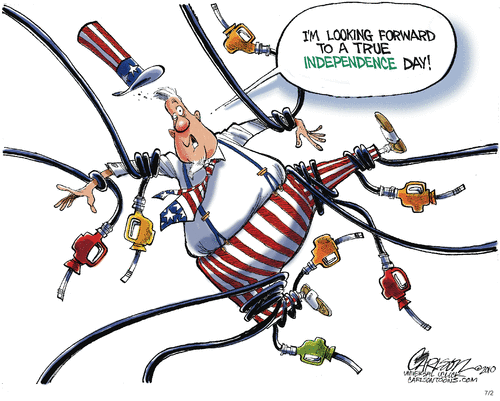 I'm not one for a lot of  old symbols in my cartoons, but this cartoon by Stuart Carlson of Uncle Sam is such great design that I couldn't resist it. Here's the power of color, people! From Gocomics.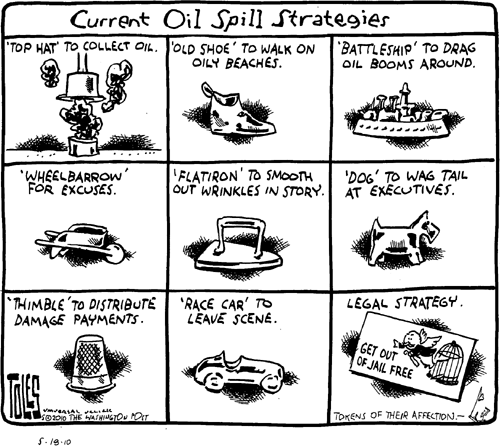 I don't think I've included Tom Toles in any of my roundups before. He's the cartoonist for the Washington Post, and I think he's won a Pulitzer, but I think he's too stylistic (or too cool?) for my taste. And every single time, I think the PS he adds in the bottom right corner detracts from the cartoon itself. Unfortunately, this has that, too, but I enjoyed the little monopoly player pieces, like the thimble, the iron, the dog, the ship, and the captions attached! Nice, Tom! From Gocomics.
Extra cartoon stuff
If you're counting, this would be the 9th and 10th cartoons, but I'm way too modest (or too savvy?!) to include my own cartoons in the 8 best BP oil cartoons. Here's a peek, if you want to look.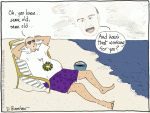 Comments on Dr. Phil. (Sorry, no link now. Uclick threw away 2 years of my cartoons on Slate, Gocomics and Yahoo News when they kicked me out of Gocomics.)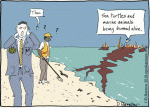 Comments on turtles. (no links there now)
And as always, many thanks to Cagle Cartoons and Uclick for allowing me to reproduce these cartoons. Go find your favorite cartoonists there, and you can comment, as well!
For search engines, who can't read cartoons…yet. Cartoon captions:
Obama and BP doing a slow dance together: I'm getting tired of this dance. Not my fault.
Couple spots something coming out of the water:It's the little mermaid! (covered in oil on the shore.)
Look at all those oily birds. So tragic. Those are lawyers. (lawyers turning into pelicans on the beach)
Couple at oil pump: Oil prices: I miss when it cost $2…Pumps have words instead of prices: The gulf of Mexico, Our national security, the world's climate.
Fingerpointing: bird, Obama, BP, Mineral Management Service, Halliburton.
I want my head back – Tony Hayward says, with his head blown up.
Uncle Sam says: I'm looking forward to a true Independence Day, (strangled in oil pumps).
Current Oil Spill Strategies with Monopoly toys: Top Hat to collect oil, old shoe to walk on oily beaches, battleship to drag oil booms around, wheelbarrow for excuses, flatiron to iron out wrinkles in story, dog to wag tail at executives, thinble to distribute damage payments, race car to leave scene, legal strategy get out of jail free card.
PS. Have bugs? You'll want to check out my insect cartoon.
My most popular BP Oil cartoons: BP Oil: When everyone knows your name, but nobody likes you.