In Los Angeles. It's all the rage. It's an evergreen topic on talk radio…will it ruin the city? Does it destroy neighborhoods? Is it really legal?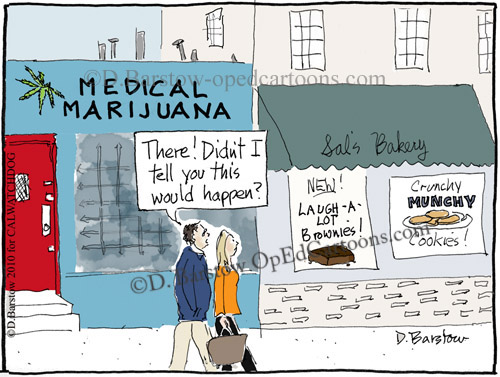 Oh, that's interesting. I went to latimes.com to see what was new on the topic and this is the top article:
Peron, a hero to the marijuana movement, started the first dispensary in San Francisco and led the state's medical marijuana initiative. Now, he and a team of weed-loving friends hope to turn the 106-room Normandie into America's first pot-friendly hotel.
Well, the article has a particularly boring title, and it must be a slow news day, but you get the idea.
Here's a poll that says most Americans don't want legalized pot.
Respondents were skeptical that crime would spike if marijuana is decriminalized or that it would lead more people to harder drugs like heroin or cocaine. There also was a nearly even split on whether government spends too much or the right amount enforcing marijuana laws. Almost no one thinks too little is spent.

Marijuana use — medically and recreationally — is getting more attention in the political arena. California voters will decide in November whether to legalize the drug, and South Dakota will vote this fall on whether to allow medical uses. California and 13 other states already permit such use.
Wow, I didn't know until I read this that California might legalize it. I can't stand it on a personal level – druggies are the most boring people in the world, and the smell is nauseating – but I say go for it, get everything legalized, and take your bong and smoke into your bedroom.
LA Curbed has more on the hotel as "stoner-friendly."
But brownies? I'm up for them any time. Recipes, anyone?
Caption: Medical Marijuana – Sal's Bakery New: Laugh-a-lot brownies. Crunchy munchies cookies. There! Didn't I tell you this would happen?
Am I right here?  Will a pot store in the neighborhood lead to better brownies? I did this cartoon for CalWatchdog, the new state watchdog in Sacramento. All my new California cartoons are over there first. They also have comments over there.
I have to say, I think this cartoon is SO DAMN CUTE. And I'm pretty sure I've seen stores in this same blue and red many places in LA – or maybe it's just in my head.