Google steals books. It has also broken the DMCA and copyright law, which was already shaky. Hey, everything online is free, right? Why not pictures, photos, cartoons, articles, and books? Google is the new Establishment, killing content with unlawful competition.
I was trying to decide what to do for my Slate cartoon today, and found that once again Google was in the news for lifting not just orphan books, but every book ever written.  I did my first Slate cartoon about Google a few weeks ago, and  the news then was that FINALLY the Justice Department was investigating Google for anti-trust violations and being an obvious monopoly and stealing all books for itself. Today, however, the New York Times reports:
The Justice Department, which submitted a 32-page filing to the court on Sept. 18, said it was concerned the agreement could violate antitrust law by giving Google "de facto exclusive rights for the digital distribution of orphan works." Orphan works are books whose authors are unknown or cannot be found. The Justice Department also said it wanted the settlement to comply with procedures for class-action lawsuits.
But the department also said it hoped the agreement could be saved because of its many benefits to readers and scholars.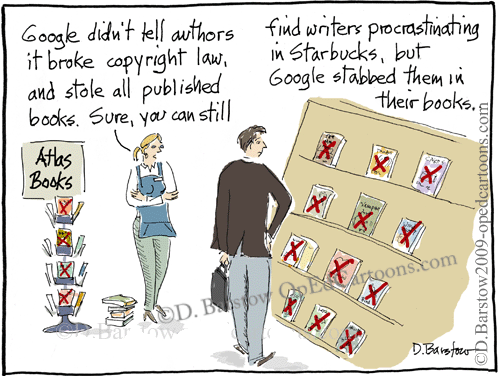 So the Justice Department has been bought. What benefits to readers are more important than benefits to the authors??? Scholars? Hello, if a writer wanted her work to be given away for free she'd start a frigging blog, or post research on a forum. And the f -ing readers can go BUY THE DAMN BOOK. Does the Justice Department understand anything at all about intellectual property? How about merchandise? Merchandise is not DONATED, it is SOLD.
Christopher S. Danielsen, a spokesman for the National Federation of the Blind, said the settlement would bring benefits for the visually impaired because the more than seven million books scanned by Google would be made available in audio editions.
Did you notice that part? SEVEN MILLION BOOKS STOLEN BY GOOGLE? Oh, and guess who else decided they wanted all these books for themselves, besides the blind? The League of United Latin American Citizens. Apparently this group forgot to go to school,  or go to the library, and don't know what a bookstore is.  
Online users of Google's digital library and store would get free access to 20 percent of any book and be able to pay to read the rest. Every library in America would be able to offer free, full access to Google's library at one terminal. And universities would be able to purchase access to the entire collection.
Gosh, for one low fee, every college kid in the country can now read your book for free. Every page. In between beers. Enjoy the thought, because that's all the payment you'll get for your years of hard work.
Non-authors will never know how many months and years it takes to get an idea, concept, or story, write up a proposal, find an agent, find a publisher, go through all the decisions of design, printing, pr, actually try to get any publicity, endure scathing reviews from every Tom Dick and Harriet, and then actually sell the book. I've called thousands of agents, book reviewers, publishers and bookstores for my two books, Love Me or Go To Hell: True Love Cartoons and What Do Women REALLY Want? Chocolate! And most of us never earn more than the first advance.
I notice Google isn't trying  to steal blueprints from architects, trade secrets from inventors, and movies from studios. No, they pick on the most vulnerable artists of them all, writers, who dredge up every word or image from their own innards. Their secret ideas are made public, and in permanent form, in a book. And these ideas are being stolen now by Google.
What gets me most in this "Book Settlement" travesty is how revoltingly topsy-turvy it is. Instead of Google paying hefty fees to publishers and authors for the right to publish portions of these valuable books, Google is simply TAKING them. The burden is on authors to respond, react, and defend themselves against this rape!! So, when did publishers and the foolish Authors Guild become so desperate that they encouraged Google to even stick their big fat nose into books, anyway? What were they paid, to make writers the victims here?
I read today, October 7, for the very first time, that Google set up an arbitrary (and totally non-publicized) deadline of September 4 for authors to get out of this automatic settlement that they finagled with the Author's Guild. I was supposed to tell them I did or didn't want to be a part of this settlement with my two books. WHA???  How was I supposed to know this? How would any author know?
SO NOW I AM PART OF A SETTLEMENT WITH GOOGLE, WHO I HATE LIKE THE DEVIL HIMSELF.
In response to my forced inclusion of this "settlement" (theft), I wrote the letter below to Google. My swear words have been redacted. I was very very angry.
WHAT??????????? How did you publicize this date? I have 2 books in print. Did you contact me? Did you have Amazon contact me? Did you tell my publishers to contact me? Did you include a notice under my name which I google at least once a week, and which includes my books? Did you find me in gmail? Did you look me up on the internet and find my name which is listed hundreds of times?
OR DID YOU DO ******* NOTHING?
I wrote to you almost 2 years ago telling you that I didn't want to be a part of Google, EVER. I was so angry then to find that you had stolen 30 cartoons, 20% of my book, my copyrighted book, that I was shaking. Instead of doing what I told you to, you IGNORED my request, and continued to display my cartoons for 2 years for your own benefit.
I'm enclosing an invoice for your use of my cartoons for 2 years. I am demanding that you remove both of my books from Google's stolen "library" and also remove me from any settlement you make with any organization.
My comments on your

outrageous proposal

to steal every single book published before 2009 and distribute it, as the monopoly you are, to benefit your own coffers, follow each of your demands below.
————————————————-
In response to the authors' and publishers' claims of copyright infringement, Google argued that its digitization of the books and display of snippets, or a few lines, of the books is permitted under the U.S. copyright law's doctrine of "fair use." Instead of resolving the legal dispute over whether Google's digitization and display of the books is permissible under U.S. law as a "fair use," the parties negotiated a settlement.
God, what lying pigs you are. TAKING 20% OF ALL BOOKS AND DISTRIBUTING THEM TO EVERYONE IS NOT FAIR USE, AND BREAKS DOWN THE DMCA.
The class consists of all persons and entities that, as of January 5, 2009, own a U.S. copyright interest in one or more Books or Inserts that are "implicated by a use" authorized by the Settlement.
THAT MEANS EVERY AUTHOR, ALIVE OR DEAD, WHO PUBLISHED A BOOK BEFORE THIS YEAR.
Are there any printed works that are excluded from the definition of "Book?"
Yes. The following items are excluded from the definition of Book:
Periodicals, for example, newspapers, magazines or journals;
YOU ALREADY LINK TO EVERY NEWSPAPER AND CACHE ALL THEIR MATERIAL, AND YOU'VE RUINED THE MAGAZINE & NEWSPAPER BUSINESS. BUT FOR SOME REASON YOU DON'T INCLUDE THEM IN YOUR SO-CALLED "LIBRARY." WHATS THE MATTER, DID THEY HAVE TOO MANY LAWYERS?
If you do nothing, you will be bound by the Settlement. If you do not claim your Books, you will not receive any Cash Payment or be able to participate in future revenue from Google's use of your Books. By staying in the Settlement, you will, however, release all copyright infringement claims you might have against Google for digitizing your Books without your permission.
IN OTHER WORDS, WE HAVE TO DO THE WORK TWICE TO GET PAID FOR THE BOOKS YOU ARE STEALING FROM US!!!!!!!!!!!!!!!!!!!!!!!!!!!!!!!!
If an author or publisher opts out of the Settlement, the terms of the Settlement will not apply to this author or publisher. This means that the author or publisher is retaining all rights to bring a legal action against Google, for digitizing and displaying the author's or publisher's books and Inserts, and against the Participating Libraries, if desired. It also means that the Settlement neither authorizes Google to make certain uses of these books and Inserts nor does it prohibit Google from doing so.
I WORK IN THE MEDIA. I'M SAVVY ABOUT COPYRIGHT AND CONTRACTS. AND IF I DIDN'T KNOW ABOUT THIS SEPT 4 DEADLINE, YOU CAN BET THOUSANDS OF OTHERS DIDN'T KNOW EITHER. I HATE YOU SO SO MUCH.
Under the Settlement, Rightsholders authorize Google, on a non-exclusive basis, to:
Continue to digitize Books and Inserts
Sell subscriptions to an electronic Books database to institutions;
Sell online access to individual Books;
Sell advertising on pages from Books;
Display portions of Book in a "preview" format to encourage sales of online access to Books;
Display Snippets from Books; and
Display bibliographic information from Books.
YOU'RE NOT MY ******* PUBLISHER!!!!! YOUR PREVIEW OF 20% OF THE BOOK IS BOGUS AND IS GIVING THE BOOK AWAY FOR FREE YOU STUPID *****.
Only one $60 Cash Payment will be made for a Principal Work, even if it appears in more than one Book, or that both as a Book and also as an Insert in another Book (because a portion of the first Book was quoted in the second Book). Each Book contains only one Principal Work. For example, a Book of the novel The Old Man and the Sea might contain an introduction, footnotes and an afterword. The novel itself would be that Book's Principal Work; each of the other materials would be an Insert if the U.S. copyright interest in those other materials is held by someone other than the Rightsholder of the Principal Work. Similarly, a Book could contain several short stories from a variety of authors (such as the Best Short Stories of 2008). A collection of short stories would be the Principal Work and each individual short story would be an "Insert."
$60 FOR A BOOK? THAT DOESN'T EVEN PAY FOR THE USE OF ONE CARTOON!!!! HOW GREEDY CAN YOU GET? YOU ARE SUCH BLATANT THIEVES, SHUTTING DOWN COPYRIGHT LAW AND HURTING MILLIONS OF REAL CREATORS. WITH THIS FORCED CONTRACT, YOU PROVE HOW UNETHICAL YOU TRULY ARE.
Can Rightsholders request that their works NOT be available on Google?
Books: Yes. Rightsholders of Books have two options under the Settlement, removal or exclusion.
Rightsholders can request Google to remove one or more of their Books if they have already been digitized, or request Google not to digitize a Book at all. Rightsholders have the right to remove a Book from the Google Library Project by request received on or before April 5, 2011. After April 5, 2011, Google will honor "do not digitize" requests if Google has, as of the date of that request, not already digitized the Book.
GOOGLE HAS MADE US BEG. GOOGLE IS USING ITS DISGUSTING POWER TO FORCE AUTHORS AND CREATORS TO LICK THE GROUND AND BEG GOOGLE NOT TO COPY OUR BOOKS, INSTEAD OF GOOGLE MANNING UP AND PAYING US FOR OUR GOOD WORK. GOOGLE HAS BROKEN THE SPINE OF COPYRIGHT LAW.
What are the Display Uses?
Display Uses include Access Uses, Preview Uses, Snippet Displays, and Display of Bibliographic Pages.
Access Uses include viewing and annotating the entire Book, and printing and copying and pasting portions of the Book, subject to page number limitations. The uses include institutional subscriptions, consumer purchase of online access, public access at libraries and elsewhere.
Preview Uses allow a searcher to view up to 20% of a book before making a purchase decision, but will not allow a searcher to copy and paste, annotate or print any pages from the Book. Preview uses are designed to serve as a marketing tool to sell the Book.
Snippet Displays allow a search to view three or four lines of text from a Book, with up to three snippet uses per user for the Book.
HERE WE GO. GOOGLE'S IDEA OF HOW TO SELL A BOOK IS TO GIVE 20% OF IT AWAY FOR FREE. HOW MORONIC DO YOU THINK WE ARE?????????????
What am I giving up if I stay in the Settlement?
If you choose to stay in the Settlement, you give up your right to sue Google and each Participating Library ever again for any claims related to those at issue in this Settlement. For further information, please read the complete release, contained in Article X of the Settlement Agreement.
IN OTHER WORDS, WE HAVE ****** YOU GOOD, WRITERS.
My original complaint is below. It's so hard making a living as a cartoonist – you have no idea how I struggle. One of my biggest accomplishments is that I have had 2 books published. And now you want to take away all pleasure in my creation, all ownership, all fun, and any possible money. You are scum, and worse than medieval lords.
Re
: [#222739099] book search – want to get my book DELETED
Tuesday, December 11, 2007 11:00 AM
From:
This sender is DomainKeys verified
"Google Book Search Support" <books-support@google.com>
Add sender to Contacts
Hi Donna,
Thanks for your message. I understand that you'd like to remove your book,
Love Me or Go To Hell: True Love Cartoons from Google Book Search. This program is designed
for publishers and authors who want to increase the visibility of their
copyrighted materials, by displaying their content online. Your publisher,
Andrews McMeel, already has an account with Google Book Search and has
chosen to display book content online.
To request that your book be removed from Google Book Search, please
contact your publisher directly.  However, do not hesitate to let me know
if you are unable to resolve this issue through Andrews McMeel. I'll be
happy to assist you further.
Sincerely,
Dan
The Google Book Search Team
—————-
New! Get a Google Book Search box for your website. It's free and easy to
add. Learn more at http://www.google.com/addbooksearch
Original Message Follows:
————————
From: ME
Subject: book search – want to get my book DELETED
Date: Mon, 10 Dec 2007 23:29:28 -0800
Language: en
comments: How do I get my book OUT and DELISTED from your search? You
have about 30 copyrighted cartoons on there for anyone to steal. I will
also go through my publisher, but I am the author.
contact: Donna Barstow
The Cartoon: "Google didn't tell authors it broke copyright law, and stole all published books. Sure, you can still find writers procrastinating in Starbucks, but Google stabbed them in their books."
I didn't want the cartoon to be too wordy, but I wanted the facts out there, so… I like my little pun of stabbing them in the books (backs).  And I thought the red x through each book showed that it had been wounded or ruined.