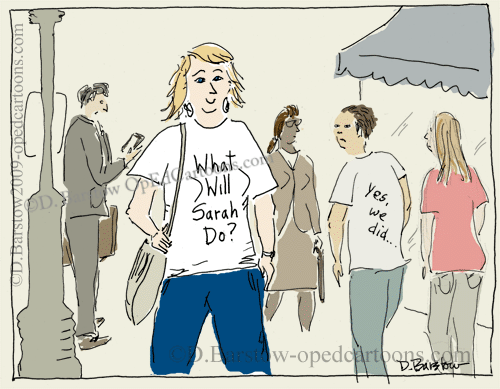 As promised. Two different versions. (Another cartoon after the jump!)
The hate and mockery continue against Sarah Palin, of course. Found this link on Salon by Camille Paglia from the impressive and productive Andrew Breitbart:
In a way, this is part of her virtues — her complete freedom from routine micromanagement and business as usual. She does her own thing with seat-of-the-pants gusto. It's why she remains hugely popular with the Republican grass-roots base — as I know from listening to talk radio…

Whether Palin has a national future or not will depend on her willingness to hit the books at some point and absorb more information about international history and politics than she has needed to know in her role as governor. She also needs a shrewder, cooler take on the mainstream media, with its preening bullies, cackling witches, twisted cynics and pompous windbags…
I wrote this in response to a cartoon by Gary Varvel, that Daryl Cagle linked to on Facebook:
She absolutely is hated, mocked, despised, everywhere. For what?? She didn't cheat on a spouse, hurt anyone, throw billions in bailouts into the wind, etc. (Hate her environmental tude, though.)
Daryl said it's the first cartoon he's seen that takes Palin's side.  Um, what about…me? (disclosure: I know Daryl well, great guy, but am not in his cadre of good cartoonists. By choice.)
I liked this cartoon so much I had to do it twice! This 2nd version is a stronger graphic, and doesn't have the distraction of the t-shirt the guy has on: We did it – from the Obama campaign, of course. Obviously – or, I hope it is obviously – this is a takeoff on What Would Jesus Do?