The music stopped when Sarah Palin resigned as Governor in a surprise move yesterday. In comparison to this, who cares about Michael Jackson?!
(To be honest, I didn't remember Michael Jacksn's Thriller and the claw hands, didn't know what the lean was until I saw the cutest boy in the world (Derek Hough) do it and post it on Twitter, so then I had to look it up, and found that BoingBoing had an explanation of how Jackson did it in his performances, and it's taken almost a week for me to learn that Jesus Juice  was a term he invented. (I think it means wine, right?))
But Sarah…That was the season when I actually paid attention to the campaigns and elections, and she was electrifyingly real. In character, and a character. Mesmerizing, even in, or especially in, her most humiliating moments. And I always thought she was beautiful, and I loved her voice.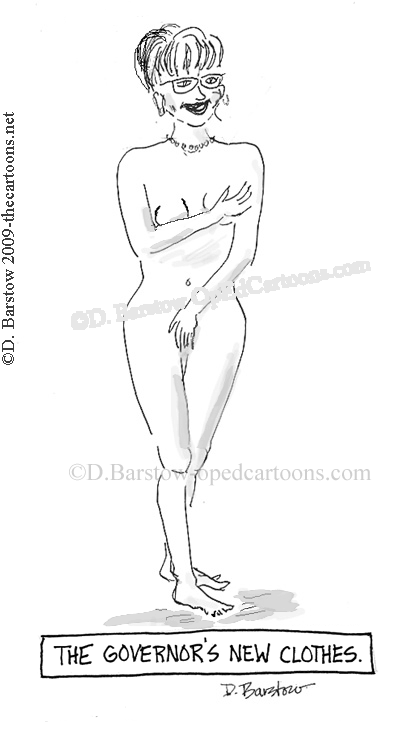 Oh, did I forget to add that she was a cartoonist's dream girl? A poster girl, a pin-up girl for cartoonists. (Okay, maybe especially for bloggers.) I did this for Slate, but it didn't run until after the election, so not many people saw it. And she won't be Governor for much longer, so time, people, time. I'm working on a new cartoon for Monday, so check back!  
She's not dead, and I have to stop talking about her in the past tense. BUT…what is going to happen to her now? Did she ruin any possibilities for running as President in 2012, as many pundits and analysts have said?
Top of the Ticket is the LA Times biggest blog, and they made some guesses:
Professionals watching a withdrawal like this conventionally and immediately wonder, what bad news don't we know about her that's about to come out? Is there some scandal, indictment or personal revelation that would cause her to step down even before its announcement? Friday, especially a pre-holiday Friday, is usually a time to announce what you don't want heard much…

What she's decided to do, as a former championship basketball player who sees the bipartisan opposition has gained momentum, is take a timeout, get out of the line of fire awhile, write her lucrative book, take care of her children, blog and travel a lot without the responsibilities of elective office. Free her family from scrutiny.
Everyone's just guessing. But it's fun to guess! A mystery for the 4th of July.
Robin Abcarian in TOT quotes political analyst Michael Carey:
"I think it's irresponsible for her to quit as governor," said Carey. "It's not like she's infirm or in poor health."
Agree with this, but she does have a kid with Down's syndrome, and her other kids keep getting into trouble. We don't have the facts yet.
One thing I'm sure of: from the violent, vindictive hate talk  and scorn I see all over the internet, twitter and even Facebook, sexism is alive and thriving in politics, STILL. Sarah Palin can do no good in these spewings, even when she steps down. It was so rampant and obvious when Hillary Clinton came close to getting nominated as President that I actually felt scared at peoples' (mostly men, though not all) diatribes. I mean, she's not exactly a rabble-rouser; it was unreasonable hatred towards her, not just political attitudes. Sarah is more kooky than many politicians, somewhat uneducated, and of course, vulnerable.
The last is the scary part. I wish her all the best. (I describe her as Sarah de Venus in my other blog.)