My swine flu cartoon (H1N1 cartoon), up on the first page of Slate today, has gotten some attention from Google, new followers on Twitter, and my first hate mail. See, now this is being a REAL editorial cartoonist.
Well, the cartoon is about swine flu and Mexico, really, and I concentrated on Mexico, because swine flu in the US looks to be about the size of a head cold. It seems to kill only in Mexico – so far. But I'm not a physician, and am not very interested in disease. However, I couldn't help but notice in the LA Times a few years ago, how the only incidences of tuberculosis in LA County were from Latino immigrants. The Times is a very liberal paper; it must have just killed them to admit this fact.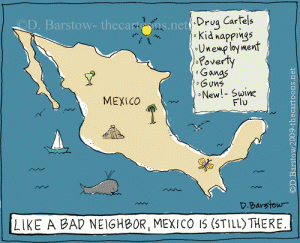 Well, anyway, I have to report on the news, not wild hypotheses like 8 kids in NYC had a sniffle. And Mexico has been in the news lately for other sad things, has it not? Think of me as the sundial for cloudy days.
Thanks to Mashable (on Twitter!) I found this article in CNN on
Swine flu creates controversy on Twitter:
Some observers say Twitter — a micro-blogging site where users post 140-character messages — has become a hotbed of unnecessary hype and misinformation about the outbreak, which is thought to have claimed more than 100 lives in Mexico.

For example, some Twitter users told their followers to stop eating pork, he said. Health officials have not advised that precaution.

Etc.
That will be nice, won't it, when the USDC has some actual facts. Besides calling it H1N1 flu, to try to make it look like they're working on it.
Okay, let's go to my mailbag -or hate mail, in this case – OOPS, just got another one. Blanca writes
…..and old problem for Mexico, ignorant americans like you
And Mr. del Rio writes:
Donna, you recent cartoon paints Mexico with a series of "sins" that frankly could apply to practically any other country in the world. Particularly accusing Mexico of "guns" when it is a well known fact that over 90% of all the guns in Mexico come from the US; not to mention that a 40 Billion Dollar drug consumption market is fueling the Mexico cartels. Your depiction of Mexico as bad neighbor is both offensive and ignorant. It must liberating to be able to express so freely and so un-funningly (I thought cartoons were supposed to have at least some element of humor?) your own prejudices on the face of a healthcare crisis that could have emerged from anywhere.

Shame on you!
Oh, and a third:
What do u know about mexico Lady!! U are the bad neighbor!! wee dont need ya at all!!!
(I didn't have room to add Poor Education in the cartoon.)
None said whether they have a trip planned there soon, or whether they would have written if I had made the map of Canada, instead. Swine flu is not Mexico's biggest problem – notice that I put it last. And obviously, no one BLAMES a country or a person, for that matter, for getting a disease. But the US has been issuing warnings not to drink the water in Mexico for decades. Maybe, just maybe, their health department, run by the corrupt government there, are not the best.
The Drawing I don't know if anyone remembers the State Farm jingle that goes, "Like a good neighbor, State Farm is there." Apparently not. Maybe I was trying to be too clever, turning it around like this for the caption.
And this will only be interesting to a small slice of readers, but while I was drawing this I was suddenly remembering an embroidered framed linen that I think my grandmother made in crewel embroidery of Cape Cod, which is somewhat similar in shape. It was done on taupe linen, and I think the wool was only in red and black – so simple and handsome. I think it even had a whale like this! And it had a very fancy compass pointing north that I can't remember, and didn't have time to research when I drew this. Yay for embroidered linens.
You can also leave comments anonymously on GoComicsfor this. Please note that this cartoon was picked as BEST CARTOON OF THE DAY for Slate by the editor – that's why everyone saw it. So….guess Slate is the r- word, too, eh?