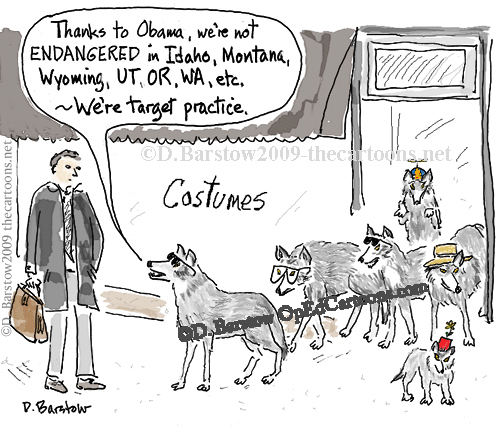 Right after Obama took office he cancelled Bush's plans to rewrite the Endangered Species Act, affecting wolves, among other animals. I took note of that, knew I wanted to do a cartoon on it, but then put it aside because I wasn't sure if the EPA was already done, or just thinking out loud. Once you have to write about the news – and believe me, as an editorial cartoonist I've become a better journalist – you notice how much of the news is really stuff that might happen, or will happen. Then they report it all again when it does happen, as if it's fresh meat!
So as I was saying, it actually did become law last Friday. Only Obama RESCINDED his protection promises for wolves, and turned them over to the lawless states, not the Federal government any more! So Bush's original plan succeeded.  
The LA Times reported this in a very neutral, uninteresting, boring tone. In a blog there, not in the paper. Oh, and they left some things out. The NY Times gets it:
Jenny Harbine, a lawyer with Earthjustice in Bozeman, Mont., which has sued to keep the federal protections, said, "We're disappointed." She added, "Idaho has shown an eagerness to kill as many wolves as possible, and they are drawing up plans for killing wolves as we speak."
In 2007, Gov. C. L. Otter of Idaho said he favored reducing the number of wolves there to 100 from more than 800. He also said he would be the first to buy a wolf hunting license.
In most of Wyoming, the wolf is designated as a predator and could be shot on sight if it were to be delisted. Controversy erupted last year when people chased wolves down on snowmobiles and killed them from planes.
Don't you wish you lived in Idaho or Wyoming, too? And wouldn't the LA Times have done well to keep ALL the facts in the article?
I believe, as do most biologists, that delisting on state lines is about as unscientific as you can get, which virtually guarantees the greens will win again in court and keep the Big Dog on the endangered species list
That's how NewWest.net describes it, in hunting-friendly terms. The idea, I guess, is that a wolf is a big dog that it's fun to kill. (and they can't claim the old "IT'S FOOD" excuse with wolves!)
The Defenders of Wildlife Yellowstone Wolves blog says:
In particular, the rule ignores contemporary scientific research on what constitutes a recovered wolf population and allows wolf populations to be reduced to the point where they could not achieve the natural genetic connectivity thought by scientists to be essential to the species' long-term survival in the region.

Secretary Salazar reissued the Bush plan without any response to conservation groups.
And who appointed him Secretary? One guess. And it's not Bush.
The Cartoon This took a long time to draw! I have to admit, as I drew the little one with a potted plant on his head, I got tears in my eyes, he was so cute.
(Gocomics also has comments and discussion.)