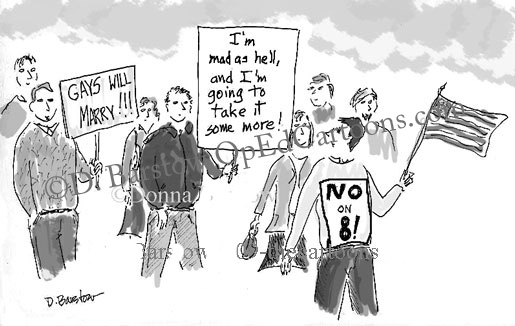 Proposition 8 cartoon  Silent. Sign says: I'm mad as hell, and I'm going to take it some more.
Am I being disrespectful? Or funny? Only an editorial cartoonist knows for sure.
I was surprised when Proposition 8, here in California, got picked up by gays all over the country as a rallying cry. I thought it was a state by state thing. I mean, didn't Massachusetts say yes? And some other states, so why hold up California? Good PR.
What gets me is the whining, and attacks on churches now. Here in LA, the No on 8 decided the problem was the Mormon church, because they had ads in favor of Prop 8.  Of course, the LA Times had polls immediately after the election that it was  blacks and Latinos by a large majority that voted against Gay rights. How many people of color do you know that are Mormons?
Gay rights movements didn't care. It was much easier for them to attack a church than to attack different races, don't you agree? Horse manure. Real mature.
Think this is a good cartoon? Remember, I don't have to explain everything. Some political cartoons are puzzles.