I don't like sports. The only reason I wrote about Tiger Woods over Thanksgiving weekend was because I thought this was funny:
The Orlando Sentinel reported that an orange and white barricade sat on top of a hole in front of Woods' home. About 10 feet away, there was a tire track near an oak tree in his neighbor's yard. The tree had a few scuff marks but was largely unscathed.
I'm always interested in news reports of oak trees, especially when a man named Woods is involved.
But this media interest, this intrusive, low-class waitress spewing crapola is so low class! As he said, it's his personal business! I don't care if he had an affair, or his wife got mad, and I don't care if anyone else cares!  A big, meaty UGH.
But many cartoonists jumped right on it, using every pun and double entendre you could shake a golf club at.
Daryl Cagle has a lot more cartoons over at his place, but here are a few I had comments on.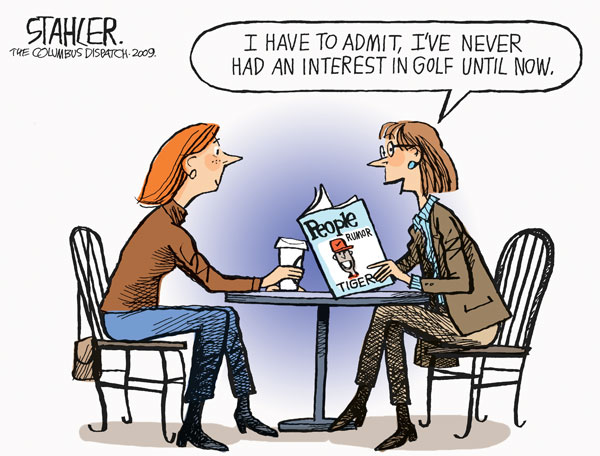 This cartoon by Jeff Stahler…Think it's sexist enough?
All cartoons from Cagle Cartoons.