Kind of a funny situation in California now.
Jerry Brown wants to hurry up and put a proposition on the ballot in June for voters: can he set up a special election to extend higher tax rates on sales, vehicles and income for five years. It's not exactly raising taxes, but doesn't lower anything. (Our sales tax is almost 10%, outrageous.)
From the Sacramento Bee:
Brown is negotiating with a splinter group of five GOP lawmakers, whose wish list contains issues that have divided the Capitol for decades.
Republicans want to curb union power and demands, and put a hard cap on spending.  So why are these 5 Republicans acting like rogue elephants (dangerous when separated from their herd!) and acting beguiled by Governor Brown's tax increases? Beats me.
Business Week says:
Republicans are seeking rollbacks of public employee pensions, a cap on state spending in future budgets and business-friendly regulatory changes…

Steinberg and Brown have complained that Republican lawmakers have not been specific about what they are willing to trade for their votes on a special election.
However, 2 of the Republican runaway leaders said they gave Brown a "wish list." Oh, Amazon.
Even John and Ken, some of my favorite hosts on California, here I am, Pick a Political Party!
Sacramento can't decide whether we're more like Junior High or High School, however.
Dems vs the Taxpayer Caucus – RUMBLE!
Oh, I do like the slapfights in California politics. Wisconsin is in it to win; we're in it to flex our muscle, even without the Governator.
The Taxpayer Caucus is the newest clique. Tony Strickland,  a State Senator who started the caucus, so probably isn't biased at all, writes about it in the Ventura County Star.
California's taxes are some of the highest in the nation. We have the highest sales taxes. Our corporate income tax is the highest west of the Mississippi. Our personal income taxes are the third-highest in the nation.
Sadly, all true. The sales tax, especially, puts a little sad face on me. :(
The governor wants to put tax increases — which would amount to more than $50 billion over five years — to a vote of the people in June. I think the people should be given a choice on taxes, but they should be given all the choices. If the governor wants to put tax increases on the ballot, then he needs to put an equal or higher tax cut on the ballot, as well. This is the only way voters will truly have their voices heard.
Read  the Star link further to see who would get the juicy tax cut.
Cartoon Caption: IF CALIFORNIA WAS STILL IN HIGH SCHOOL. Current cool kids (the De
Little later than I wanted, but still a good scoop.
The LA Press Club has some pretty good speakers, but I was looking forward to the one on talk radio for weeks, and it didn't disappoint!
KFI's John Kobylt, half of the John and Ken show, Talkers magazine publisher Michael Harrison and KPCC/LA Times journalist and radio host Patt Morrison will be among the participants of a high-powered panel discussing the state of talk radio in L.A. and the nation, presented by the Los Angeles Press Club, Thurs., Oct. 28, at the Steve Allen Theater.

According to Talkers magazine publisher Michael Harrison, who coined the term "talk media" and defined it years ago in preparation for this new era, "Talk media is collectively the most accurate bellwether of American public opinion in the mass media today."

Radio veteran Bill Moran will moderate by tossing such queries as "What is the impact of Talk Radio on the mid-term elections?" and "Is a strong news department relevant or even necessary to the content of Talk Radio?"  And there are many other probing questions he will be challenging participants to answer.  Two of those being put on the firing line include top talk show program directors Robin Bertolucci of Clear Channel and KABC's Jack Silver.
I happened to sit next to Bill Moran at another event and knew he would be a good moderator. He told a couple of us beforehand that he was going to ask John Kobylt why John and Ken had such a strange position on Prop 23 (set up by oil
companies to squash AB 32, our very strong anti-pollution act, which hasn't even started yet). John and Ken have been ranting for weeks that it will cost everyone their job, and no one believes in Global Warming anyway. (Right.) Bill did ask John about this, and he went right into his spiel against global warming! (Although I agree with him about fluorescent bulbs are ugly, don't fit anywhere, and have terrible light. Hate.)
Also, before it started, I talked with Patt Morrison of NPR for a couple of minutes about her dog – told her I had been following rescue groups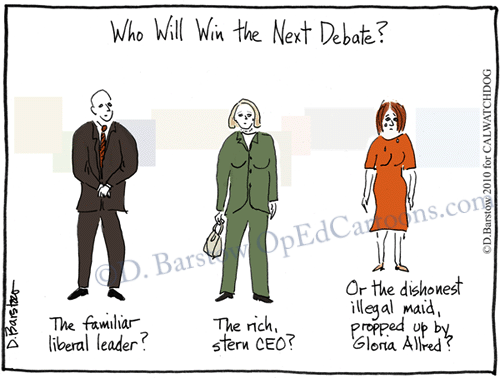 Ooh, poor Meg Whitman. It doesn't look good for her now. Not because of the loathsome disloyal maid, but I guess people just don't like Meg enough.
Personally, I didn't like her double-speak about illegal aliens, where she said one thing in English and another in Spanish. Um, we have translators here, Meg, not to mention a few bilingual folks.
But was there another reason Meg is failing in the polls? Come back later today when I give you the story of what I learned from John Kobylt (of John and Ken show at KFI – biggest talk show in the country) when he spoke at the LA Press Club tonight!!! read more