UPDATED*:
First Day of Spring cartoon. First day of spring is officially March 20 this year (although I've always thought it was March 21), but because the clocks sprang forward one hour this weekend (hate), we'll call this Spring Week.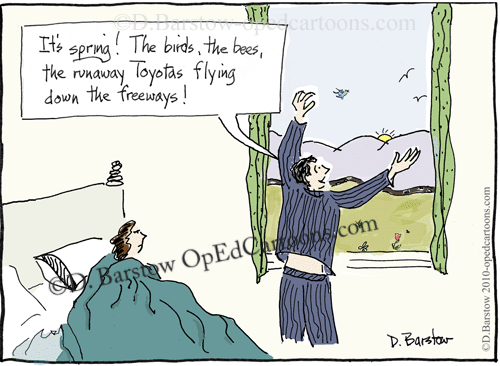 This made me laugh last night when I wrote it. It still makes me laugh! Maybe I'm just a morbid cartoonist who likes accidents and death, or maybe I am amused by the hoax that that one guy has been pulling on us. Kind of suspicious from the beginning, yet I couldn't put my finger on why…
From the LA Times:
Toyota Motor Corp. said Monday that its preliminary investigation into a runaway Prius incident a week ago resulted in findings "inconsistent" with the driver's account.

The automaker said at a San Diego news conference that two days of testing failed to reproduce driver James Sikes' reportedly stuck accelerator, leading to a nearly 30-minute ride on Interstate 8 before he could get the car stopped.
Okay, it was a Prius, not a true Toyota this time. Big diff – sue me, I'm a girl.
Over the weekend, Gomez said his client was sticking to his story and that a "ghost-in-the-machine" type of software failure, if to blame for the incident, would be difficult to reproduce in testing.
Toyota executives steered clear of saying that Sikes was not being truth- ful.
That's a weird hyphen in truthful. Sikes' story is here.
I love the part where the CHP said it was washing its hands of the whole story hoax!