Governor Arnold Schwarzenegger, in his last 2 weeks with that title, talked with the Los Angeles Times last Friday about Schwarzenegger's future plans.
…he initially said, "There's no rush…. It's not like I have something in my mind."

The governor went on to say that he would like to work on public policy issues in which he could have an impact "with my celebrity power, and also my knowledge and experience."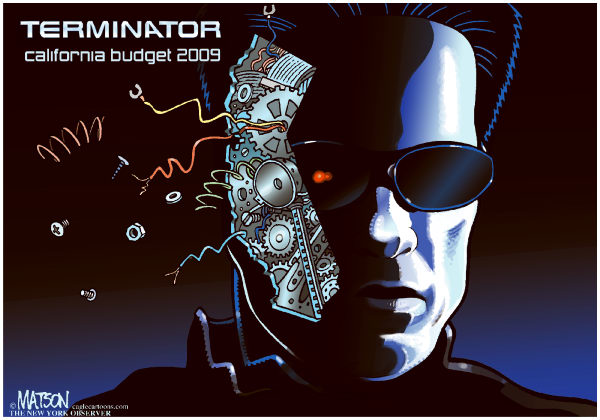 He said he's hot for environmental issues, but also likes oil, because he drives a Hummer. That's our Governator!
The Ticket jumps from there to the possibility that Arnold Schwarzenegger wants to work in some capacity with the Obama administration, and points out that Obama says he would like to add more Republicans to his cabinet, including Schwarzenegger.
Image via Wikipedia
Does this smell like love? Schwarzenegger is probably eager to jump into something ASAP, because his high-speed rail project didn't jump off the tracks like he wanted it to. And because he's never been shy.
The LA Times covers only the basics when it comes to state news, as I quickly found out when I had to work on state cartoons for CalWatchdog this year, but of course Arnold is part of the Hollywood crowd! There are only a handful of editorial cartoonists in California, but because California is kind of big, occasionally other cartoonists look over here, too.
Big-time cartoonist RJ Matson did this terrific cartoon on Arnold last year, when he was drawing for New York Observer. RJ has a very formal stylistic, well, style, that can be a little cold when he is discussing hot politics, but it looks great here. Because Los Angeles still thinks of  Schwarzenegger as one of our own. Actors.
Cartoon courtesy of Cagle Cartoons. Check these California cartoons out, as well.
My cartoon on stem cell research (Sorry, no link now. Uclick Gocomics threw away 2 years of my cartoons on Slate, Gocomics and Yahoo News when they kicked me out.), currently being funded big time in California. There's a mouse in it for ya!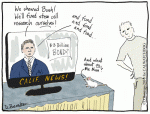 I'm talking about other cartoonists over on examiner.com.