Ooh, poor Meg Whitman. It doesn't look good for her now. Not because of the loathsome disloyal maid, but I guess people just don't like Meg enough.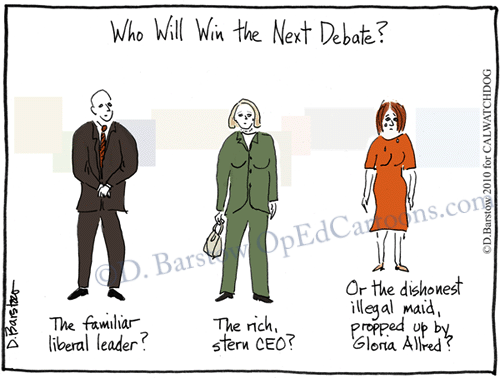 Personally, I didn't like her double-speak about illegal aliens, where she said one thing in English and another in Spanish. Um, we have translators here, Meg, not to mention a few bilingual folks.
But was there another reason Meg is failing in the polls? Come back later today when I give you the story of what I learned from John Kobylt (of John and Ken show at KFI – biggest talk show in the country) when he spoke at the LA Press Club tonight!!!
Caption: Jerry Brown, the familiar liberal leader, Meg Whitman, the rich, stern CEO, and the dishonest illegal maid, propped up by Gloria Allred, all battle it out to become King or Queen of California!