Who ya going to vote for in the California Primary?
I thought everyone could use some help on this. I've been doing cartoons on California and the upcoming elections for almost 6 months now for CalWatchdog, this extraordinary journalism site for a think tank in Northern California, but haven't posted many of them here yet. It's time.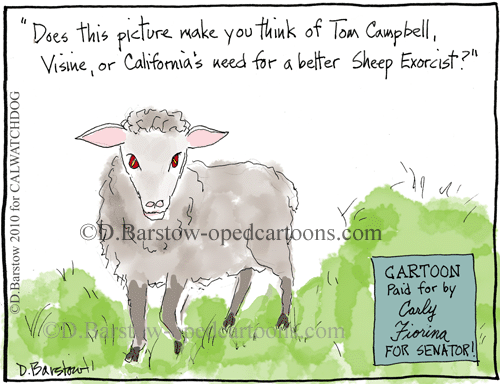 Okay, now this was  a pretty impressive campaign move. This Youtube on Tom Campbell as a demon sheep – or is it all other Republicans in general are sheep? – by Republican Carly Fiorina is classic Hollywood, and it went viral in days! Gather calls it "the most bizarre political ad ever." And oddly enough, the makers of this video, just set up their own website 2 days ago, calling this a trilogy!
I think Fiorina's…exaggerating. Plus, it's not my voting dealie, so no comment on that election. More cartoons below.
I found the California Governor campaign much more shocking!! CalWatch journalist Steve Greenhut (formerly of the Orange County Register, and author of the best-selling Plunder: How Public Employee Unions are Raiding Treasuries, Controlling Our Lives) said he thought these exchanges between the 2 candidates for Republican governor were rather silly and much ado about nothing, but I was truly horrified. (the words in the cartoon caption are what they really emailed each other.) I had no idea such arrangements happened in the backroom of fierce political campaigns!
Sure, when millions upon millions are spent – and both these candidates are made of  Croesus's gold – I can see why they would try to keep costs down and expectations reasonable. But they actually try to bribe each other, and make backdoor promises? Do they really follow through on these promises?
What happened is that Steve Poizner made these emails from Meg Whitman public, and did report it to the FBI, or threatened to.
From the LA Times:
Steve Poizner's allegation that Meg Whitman used attempted bribery and extortion in an effort to push him out of the gubernatorial race was merely an attention-grabbing stunt by a desperate dark horse, many contend. Hopefully, they're right.Because if Poizner was sincerely angry and really does believe — as he wrote state and federal prosecutors — that the Whitman camp deserves criminal investigation, this is scary.

It raises the possibility that Poizner has no stomach for making political deals, the kind of mutual back-scratching needed for any democracy to function.
No, it's not scary, it's exposing the truth. I don't think most people know or think these kinds of deals are "needed for any democracy to function."
But the campaign has gotten even more violent, with car crashes, and worst of all, the name LIBERAL thrown like mud on each other! OMG, there's nothing the right hates worse than being called that! And I agree! From the Times:
So it has come to this: Two Republicans who said they would bring cool business acumen to the governorship are, in the last weeks of their primary race, locked in a screaming match over immigration and welfare and the hot insult "liberal."

This was not what either Steve Poizner or Meg Whitman said their campaigns were to be about….

For Whitman, the former head of EBay making her first bid for office, the turnabout from high-flying frontrunner to muddy brawler has been particularly brutal…

By last week, however, her once massive lead had diminished substantially and Whitman was firmly on familiar turf for a Republican primary — issues that play on cultural or racial notes.
The LA Times is on familiar turf, too, isn't it? Saying if it's Republican, it's got to be rac-ist. UGH.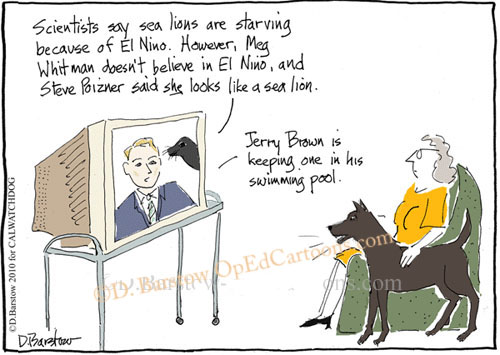 Anyway, my last cartoon on them is ecological, of course. I seem to be the ONLY cartoonist on Slate who ever does cartoons on the environment or conservation. (except for the birds in oil, yuck, which are also cliche.) It's true about the sea lions starving. I don't know if it's true that Meg Whitman doesn't believe in green, or Steve Poizner said she's not as pretty as he's used to getting, or if Jerry Brown keeps a sea lion and other wildlife in his swimming pool. But he might.
You can find most of my California cartoons at CalWatchdog, the day they go up, and they have comments there, too.
Cartoon captions for blind Google: California: the most dramatic state in the union. I'm very rich. I'll put you in the wood chipper! Don't run for Governor – you can be a senator.- Meg Whitman. I'm mega-rich. Don't threaten me! You bribed me! I'm telling. Hello, FBI? – Steve Poizner.
Does this picture make you think of Tom Campbell, Visine, or California's need for a better Sheep Exorcist? Cartoon paid for by Carly Fiorina, For Senator.
Scientists say sea lions are starving because of El Nino. However, Meg Whitman doesn't believe in El Nino, and Steve Poizner said she looks like a sea lion. Jerry Brown is keeping one in his swimming pool.