It's Sunday, and time to choose the best cartoons for the LA Times Opinion section! This time, I've gone to the well of Political Cartoons, too, known as Cagle Cartoons, owned by Daryl Cagle, a fine cartoonist himself.
As happened last week, as I start going through the week's cartoons I always start thinking – there aren't enough good cartoons here. Uh-oh. And by the end I've picked more than I can use, and I feel very happy that there are so many great, entertaining cartoons out there! In spite of the economy, the foolish newspapers who have let their Editorial Cartoonist go, or use less cartoons than ever (LA Times, I'm looking at you), cartoonists are like crocuses, popping up even in the snow. Very proud to be part of the gang.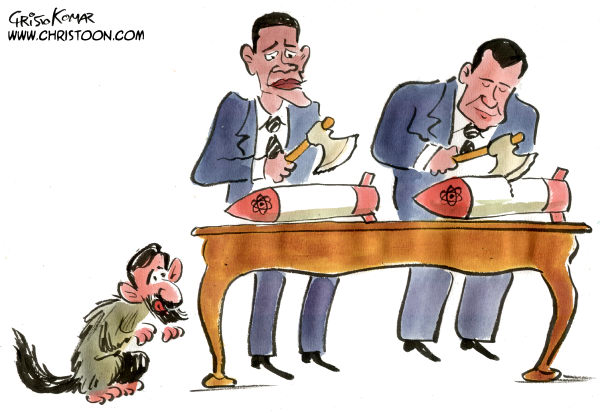 It's funny, I don't like foreign movies at all, but I do like some of the international cartoonists very much. Look: I've never seen an editorial cartoon that is completely wordless! You could use this for Wordless Wednesday! No labels, perfect.
This cartoon is not only quite charming, in a French 1950's textbook way –  it explains a complicated, sensitive international news item in a way everyone can appreciate. I can't speak for the cartoonist, but I read this as Ahmadinejad waiting for scraps to fall from the table of the bombs Obama and Netanyahu? are dismantling.
In Los Angeles, we're of two minds about cats: we pass laws that they can't be declawed, but also don't want feral cats to just die…Anyway, I think it's usually a dog who waits for scraps from the master's table, and this looks more like a monkey, but the point is clear. Thanks, Christo!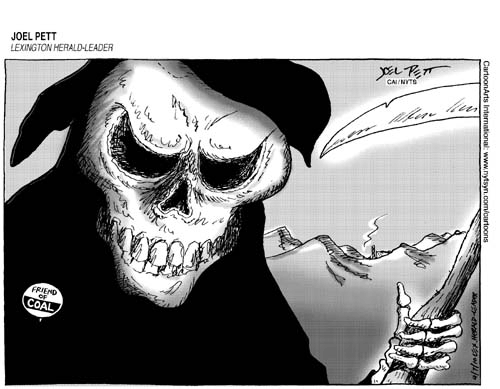 I thought news teams did a great job this week investigating the Massey scandal of ignoring safety violations in the coal mining disaster in West Virginia. I read one story where one of the men who died, Josh Napper,  had a premonition the weekend before the disaster and wrote letters to his family – perhaps stimulated by gas leaks so bad the day before that the miners got out of work early. UGH to this disgusting company! And I'll have my own cartoon on coal mining up tomorrow on Slate and Yahoo.
Joel of Gocomics lives in Kentucky, and I think they have a lot of mining there, too. (I don't know the area that well, just as I'm sure Joel doesn't know a lot about California, although he chooses cartoons for the LA Times.) Interesting that he didn't dis the mine owners responsible…just pointed out that mining is dangerous, almost like the deaths are the fault of the meanie coal!!  The little button reads Friend of Coal;the text is a little small, and this is a problem online, and I ignore lots of cartoons because of this – hello, learn your medium, guys.
But Joel did a great job with the menace of the death skull, and the whole idea, so kudos, Joel.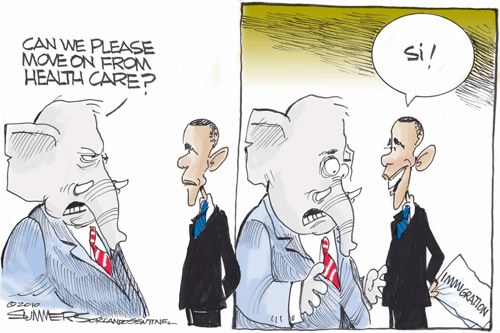 Dana Summers has a loose, easy style that I always like. This is the only cartoon of all the ones I reviewed that made me laugh! It's okay to laugh, even when you're reading the LA Times. How much of the news this year has been about health care?  Too too much. On to the next White House problem. And, uh, yeah, immigration is always the problem hiding in the corner, in California. Great work, Dana.
Honorable Mention goes to Randy Bish at Cagle Cartoons.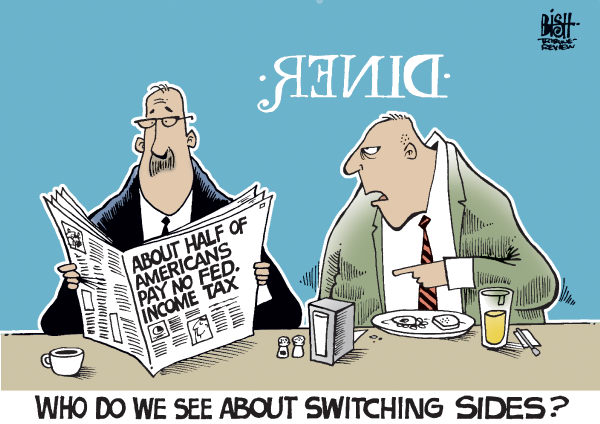 UGH, tax week.
I didn't read this in the paper, I heard it on talk radio from Tim Conway Junior: that almost half of all Americans don't pay tax!!! I thought I misheard it. I couldn't believe it. And filling out forms is the worst part, I think.  I still haven't finished doing taxes! Too many little receipts floating around and Schedule C is the pits.
Randy's style and big lettering is certainly ideal for online cartoons! I like the funny little outline around each figure, and even around the orange juice!
Thanks to everyone for participating, and remember to send me one cartoon each week if you think I might not find your cartoons elsewhere. An explanation of this roundup is here.
My own cartoons this week:
Massey coal mine is run by a dwarf. (Sorry, no links now. Uclick threw away 2 years of my cartoons on Slate, Gocomics and Yahoo News when they kicked me out of Gocomics.)
Easter bunny and the Tea party cartoon. No.
Cartoon captions for Mr. Google: Who do we see about switching sides? About half of Americans pay no federal income tax.
Death figurehead is friend of coal mining.
Can we please move on from health care? Si. Immigration.
Silent cartoon: Ahmadinejad the Cat sits at the feet of Obama, another important man, and the nuclear bombs.
Joel's picks for this weeks cartoon are over here (no, they're not) – I think. The LA Times has always had a problem linking cartoons, even when I was in there every week.