Doesn't the LA Times have their own cartoons? Not during the week, no. The LA Times is one of the top 3 national papers, but they use hardly any editorial cartoons since they laid off Michael Ramirez. They have less cartoons than any of the top 20 papers in the country.
They do have 3 cartoons on Sunday, however, here and in the paper (tiny). But they're edited by Joel Pett, a cartoonist in Lexington, KY. Lexington, really?? As far as I know, Joel has never lived here, and is Lexington in any way similar to Los Angeles? Well, they both begin with L, I guess. Anyway, Joel only chooses cartoonists in his particular cartoon group, which leaves out 15 or 20 of the top editorial cartoonists in the country.
I'm the only New Yorker cartoonist who also does editorial cartoons, so I have a good background in both. As an award-winning cartoonist and editor, and since I've been a cartoonist for the LA Times for 6 years, and, maybe, most importantly, actually live IN Los Angeles, I decided it's time I stepped up to do the job myself. :)  Now, let's pick today's winners!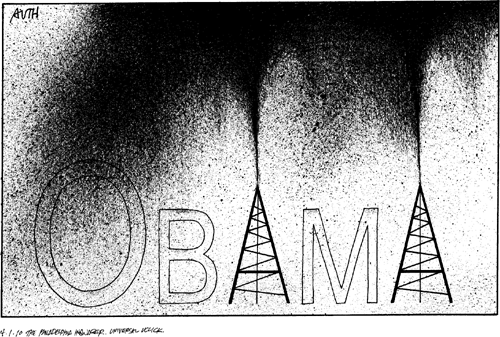 Tony Auth is a great cartoonist. I picked this one for several reasons: he was first out of the gate on this issue,  on the new coastal oil drilling Obama just approved. (boo, hiss, even though I don't have all the environmental facts yet. Just because I don't trust Obama.) It seems to be pretty common that editorial cartoonists will pick a name or word and then decorate it like an insane calligrapher. But he did a good job here, and the oil spatters are truly dramatic, spilling over the name itself.
People from other states (like Kentucky) might not realize that in LA oil rigs are common. Not out to sea, but they have baby ones like 12 feet tall in people's backyards! They call them grasshoppers or some insect, and they are SO CUTE bobbing up and down. I hate driving to the airport, but I take the long way just to watch them.  I love industrial things. (more cartoons below.)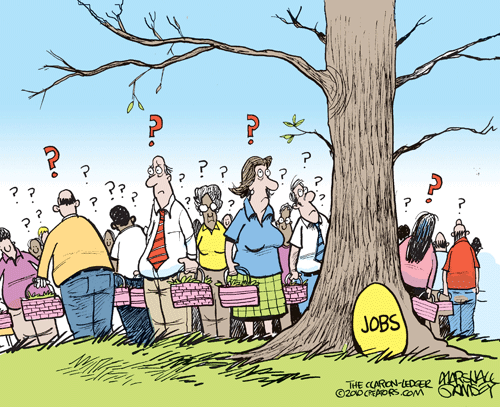 Next, I chose Marshall Ramsey's cartoon of an Easter egg hunt, and the big golden egg of Jobs hiding behind the tree! Very amusing! Good spring colors.
I have rarely, if ever seen this style of cartoon in the LA Times, and of course they don't have color – even online. They rarely have holidays, either. But it's time to shake things up there, and use cartoons people are AMUSED by – especially when they appear on a holiday, don't you think?
Also, unemployment is much higher here  in Cali than almost any other state. Staggering.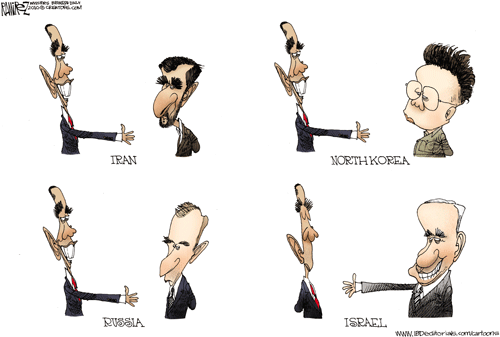 I also picked this one by Michael Ramirez, the last fulltime opinion cartoonist for the Times. He actually lives here in SoCal. Did anything happen with Israel this week in the news? I don't know. I don't know that much about middle east issues. But I assume Michael does. Sometimes cartoons are used to instruct, or point something out to us, and the Times deserves an international cartoon. I like the design and rhythm in this.
Runner up is Walt Handelsman, below, both because I like the message, and I really like jigsaw puzzles. (I just saw some in Costco for like $17. Yowza.) Obama has a lot of work in front of him, but you know, life is more fun when you look at it as a game.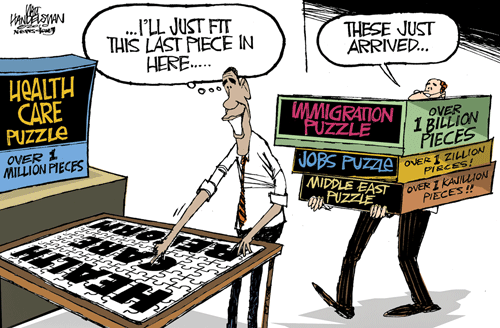 More on why I'm doing this: I edited a Barnes & Noble calendar and 2 books, and I was recently invited to be a judge for a national cartoon contest, so this is a piece of cake. I'll edit the cartoons for the LA Times, thanks, and post my selections right here! I'll pick from Gocomics.com and from Politicalcartoons.com, neither of which Joel covers; but if you are a cartoonist in another venue, and would like to be considered for my weekly roundup, by all means submit your best cartoon of the week (only one per week, please) to me at my email on my Contact page.
Also, Joel often picks his own cartoons for the roundups. I won't be doing that. You can see my California cartoons, most of which appear in the Sunday LA Daily News in print, here or in CalWatchdog, and my Slate cartoons are both here and in Yahoo.
Thanks for playing, everyone, and more next week!
And let me know what you think of my choices!
My own cartoons this week: (Sorry, no links now. Uclick threw away 2 years of my cartoons on Slate, Gocomics and Yahoo News when they kicked me out of Gocomics.)
Bad priest cartoon.
Evil health insurance cartoon.