It's come to my attention that some people don't think the same way I do! Astonishing!
For instance, one thing that I'm extremely passionate about is privacy. For others, as well as myself. And couthness. Uncouth is not cool. This includes making fun of others' sex lives, or asking them about it directly. So rude! (However, a little bit of gossip is okay among friends, in hushed tones.)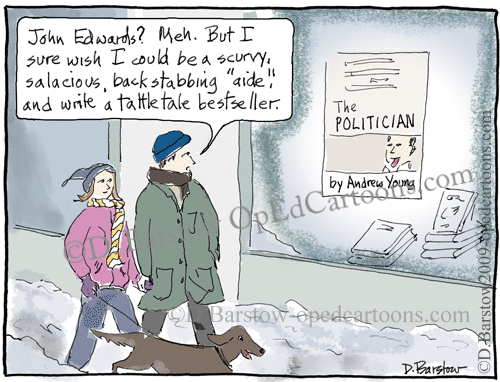 I saw Andrew Young and his wife on 20/20, talking about this book he had written about the years he worked with John Edwards, The Politician: An Insider's Account of John Edwards's Pursuit of the Presidency and the Scandal That Brought Him Down. Oh, and about a dirty sex tape he found of Edwards. Nice. Young has written a tell-all as he rolls out all the dirty secrets of John Edwards and his mistress. Only this is a revenge- book, and as the Youngs described how pious they are, the whole thing stank, so I did this cartoon shortly after the show. I think I'm the only cartoonist on Slate or cagle.com who did one on this topic. I don't know why! I know it's not hard news, but it's still important, and very sad, when a politician gets outed by his former best friend.