I live in a strange, strange state. What's hiding in all that smog, fog, and detritus, anyway? Is California really the land of dreams, or just schemes? Is it magical, a place to find your success and fortune, and is the weather worth it?
I'm about to find out. I've lived here over 15 years, so I have some answers, but what about the heart of it, where all the decisions are made? This month I started my cartoon for a new journalism group that's covering the state of California, named appropriately enough, CalWatchdog. (Still waiting for a dog in the logo.) It's connected with – get this – a think tank, called Pacific Research Institute!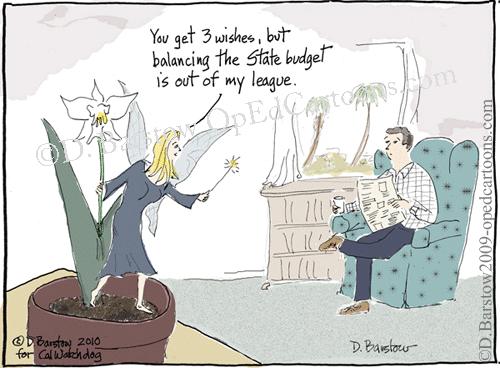 I've done cartoons in all kinds of venues, but I have to admit, never a think tank. I'm so excited to be a part of it, and especially to have my name associated with something that sounds so…smart. This is Arnold's last year, so I'm prepared to have as much fun as you can have with a German, and to explore issues all over California. (JUST KIDDING, German-ophiles!) So keep an eye on it, as I'll be uploading cartoons about California there before they go on Slate or appear anywhere else.
Cartoon caption: You get three wishes, but balancing the State budget is out of my league.
I was originally going to do this idea for the bank bailouts, saying she doesn't believe in them, but don't tell my editor at CalWatchdog this! In fact…why not do another fairy tale for Slate!? Certainly that fairy gibberish by that cartoonist on Gocomics  – Pibgorn which I just had to look up – is super popular, and Gocomics is constantly pimping it.
Hmm, just noticed that it isn't a cartoon, it's a graphic novel, with some story and a photoshopped illustration for each day. It gets several hundred comments. By Brooke McEldowney,  (a Man)  who also does a normal comic strip   – forget the name now, as I don't read it.
Even with all those comments and hits, it's still not one of the top 10 comics on Gocomics, however…Well, who can figure out cartoon lovers, eh?
The cartoon above is also on the front page of Slate today, and more comments about it might be found here. (Sorry, no links now. Uclick threw away 2 years of my cartoons on Slate, Gocomics and Yahoo News when they kicked me out of Gocomics.)
Check in tomorrow for some cartoons I liked, and some I didn't like, about Haiti.