My first cartoon of the week for Slate is always on Sunday night, so I have to find a story I'm interested in or passionate about over the weekend. Sometimes I get great news: Sarah Palin resigning oliver sudden on July 4th weekend, or something in depth that the papers ignore until the weekend. (I ignored Tiger Woods, which happened on the weekend, because…he's just a golfer, and it was just a fender-bender. Right?)
Before Haiti, it was all about the Jay Leno – Conan O'Brien scuffle. (With Carson Daly thrown in the mix somehow, but I've never watched him… and some other talk show host I never watch.) I didn't know if this was a real news story – I mean, networks move stuff around all the time, because they're as bad at guessing as the rest of us, and does anyone really care about late night talk shows?
Well there's sure been a lot of buzz about it, so, yeah.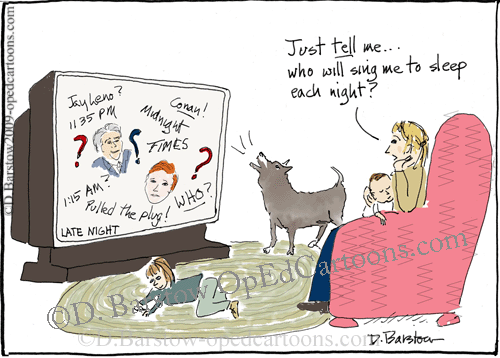 And the letter that Conan wrote was kind of fun and sly! For some reason the Times has parsed it, as if we couldn't understand the original FU letter, which was perfectly direct, well-mannered, and open.
In a scathing letter addressed to the "People of Earth," O'Brien ripped into NBC for undercutting his brief reign at "The Tonight Show" with a move that he said would "seriously destroy" what he called "the greatest franchise in the history of broadcasting."

"I grew up watching Johnny Carson every night and the chance to one day sit in that chair has meant everything to me," O'Brien said. "I worked long and hard to get that opportunity, passed up far more lucrative offers, and since 2004 I have spent literally hundreds of hours thinking of ways to extend the franchise long into the future."
Today the Times announced that Conan O'Brien is definitely being kicked out, fired, or paid off so King Leno can do his thing. What a surprise. Like we couldn't see that coming.
NBC said early Thursday that it has reached a deal with "The Tonight Show" host Conan O'Brien for his exit from the show, allowing Jay Leno to return to the late-night program he hosted for 17 years.
Poor Coco. No, that's not my pet name for Conan, but apparently his fans think Conan is too ethnic or something, so they call him that on Twitter.
Even though I never ever watched Conan O-Brien more than once or twice, I still feel resentful towards Jay Leno now. What is wrong with me?
Cartoon Caption: Jay Leno, Conan O'Brien, Late night, 12:35 PM, Midnight, etc.
"Just tell me. Who will sing me to sleep each night?"
I read an article that no one likes changes of  late night shows. You're in your nightgown or pjs, things are winding down, you don't want to think about work the next day, you either are or you aren't looking forward to sex before bedtime, and it's best that TV just give you a routine, and put you to bed.
What is that baby doing, exactly? I shudder to think. I redrew Jay Leno in a later version of this, but I do think Conan came off very well.
I wasn't thinking of the bands and singers they have on late night programs, as I meant this metaphorically, but as so often happens, that works, too!