This is normally a Christmas cartoon, but should it run before or after Christmas?!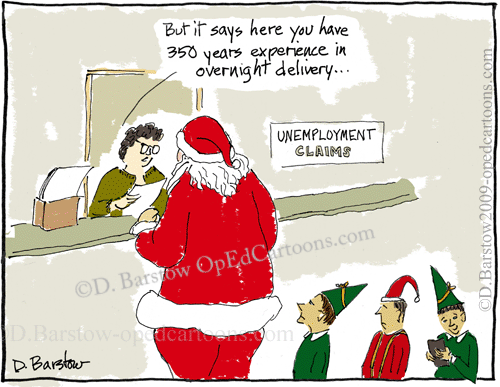 It seems logical that Santa would visit the unemployment office AFTER Christmas, of course, but those pesky editors just aren't in the mood to buy Santa Claus anything after Christmas Day – I guess they think the cartoon should be half price! This year, with over 10% unemployed (as Obama confirmed  in the oh so casual before Christmas White House Special that Oprah did, that has already aired twice – yeah, it's over 10%.) seems like unemployment is any time of the year. There's a good chance many Santas didn't get to work this year at all, so I hope this makes sense both before and after Christmas.
Yikes, unemployment went up to 12.5% in California, the Los Angeles Times said!
California still has the fourth-highest unemployment rate in the nation, yes, and its unemployment rate is a whopping 4.5 percentage points higher than it was in October 2008. But the job gains are a significant part of a trend that's seen the pace of job loss slow as the economy pulled itself back together again.
What the hell do they mean?
California actually added 25,700 jobs in October, making this the first month since April of 2008 that the state has gained jobs.
Truly, sometimes I think they just rearrange facts at the Times to have something new to say.
Anyway, I added 3 elves to this particular Santa, so we know he's the real one, and I'm sure he worked this year. Didn't I get some Christmas cards, and don't I have a new monitor coming real soon?! Could not resist having one of the elves holding a new Christmas toy – perhaps an iPhone, or – wait a second- wouldn't it make more sense if it were a BLACKBERRY?  Ho ho ho.
Cartoon caption: "But it says here you have 350 years experience in overnight delivery…" at the Unemployment Office.
I must say, I had a lot of fun fooling around with a rough bumbling Photoshop brush for the background, and even for Santa's suit. The colors are exactly what I was hoping for.