I live in a strange, strange state. What's hiding in all that smog, fog, and detritus, anyway? Is California really the land of dreams, or just schemes? Is it magical, a place to find your success and fortune, and is the weather worth it?
I'm about to find out. I've lived here over 15 years, so I have some answers, but what about the heart of it, where all the decisions are made? This month I started my cartoon for a new journalism group that's covering the state of California, named appropriately enough, CalWatchdog. (Still waiting for a dog in the logo.) It's connected with – get this – a think tank, called Pacific Research Institute!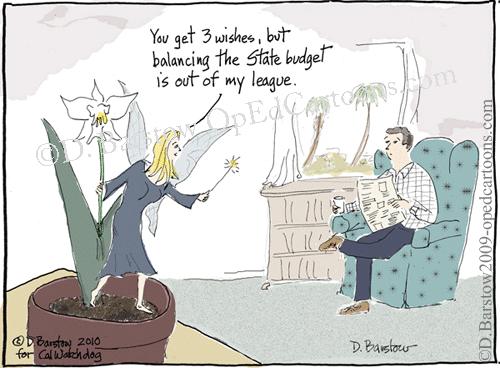 I've done cartoons in all kinds of venues, but I have to admit, never a think tank. I'm so excited to be a part of it, and especially to have my name associated with something that sounds so…smart. This is Arnold's last year, so I'm prepared to have as much fun as you can have with a German, and to explore issues all over California. (JUST KIDDING, German-ophiles!) So keep an eye on it, as I'll be uploading cartoons about California there before they go on Slate or appear anywhere else.