The slayings at Fort Hood came very close to Veteran's Day, so I think some cartoonists broke out their sad pens early. I did a cartoon on something worse than Ft. Hood, which I'll put up later this week. Meanwhile, tomorrow is Veteran's Day, so…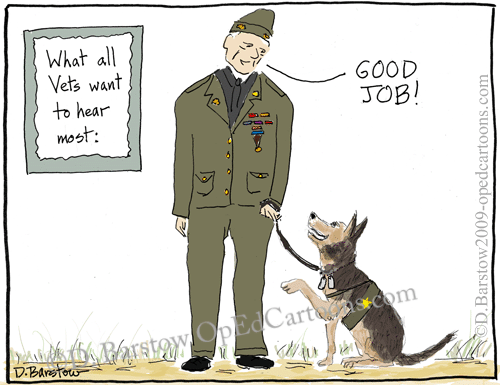 Since I just started doing op-ed cartoons in February for Slate, I wasn't sure how to approach this holiday, and what type of editorial cartoon would be respectful yet also cheerful! What do vets do? I don't know any, except my father. Surely not all of them are decrepit, as so often they are drawn in cartoons. I hate parades. Do I draw another cemetery? I don't even know what clothes they wear.
Fortunately, Daryl Cagle, who owns and operates Cagle Cartoons, put up a slew of cartoons about Veterans Day last week, so I could at least see what guys had done in past years. Here's what I decided: better alive than dead, and they wear green with a lot of medals. (fallen soldiers is more Memorial Day.)
The war dog was my own idea, too. Here's more on War Dogs. (It's a very messy and unorganized site, but I guess dogs are like that, too. It's the woof that counts.)
The cartoon: What all Vets want to hear most: GOOD JOB!
I added the colored frame to the 2nd version, and also a star to the dog's chest belt, to prove he was in the military, too. I couldn't find any examples of what real military dogs wear, but hope this gives him creds. (He's also wearing veteran dog tags, but they're hard to see.)
Happy Veterans Day to all brave men, women, and dogs!