Just give me an opening to combine any holiday, with any subject, and I'm there. This week's  message: vaccine testing is a joke.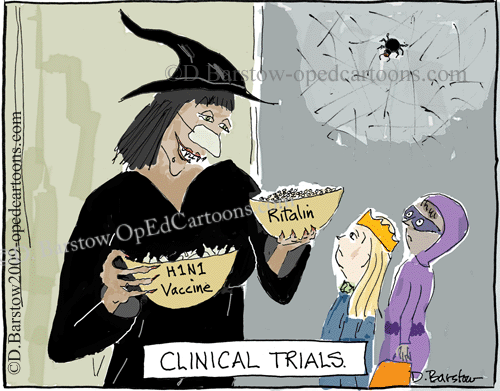 I have the numbers to prove it, but I'm super busy today, so it will have to wait.
escience news says just 40% of public is sure they'll get the vaccine. Top of the Ticket at LA Times said 38% will get it.
Using an open-ended question, the poll also found the overwhelming reason for rejecting the vaccine this year despite federal warnings and mounting concern about the illness' seriousness was concern about side effects and disbelief in its safety, especially suspicions that it has been inadequately tested. Other reasons included general ignorance and a belief the illness was probably less serious than the danger of the vaccine.
Then they quote Ron Paul:
Paul says reports of 1,000 U.S. deaths from the H1N1 may be true but….

…come from the same federal government running the vaccine program and remain unverified.

And anyway, the doctor asks, is that really such a "catastrophe" worthy of declaring a national emergency as President Obama did last weekend? The onetime Libertarian says that last winter, 13,000 Americans died from the regular flu, which he says few people mention while approving of a vast new wasteful federal H1N1 program that then fails.
Maybe it takes a scientist to understand clinical trials, but I looked up one of the companies making this vaccine, and they had only 400 tests. Really? Use it on millions after 400 people? But mainly, it's my own experience with terrible reactions to a vaccine – and I am in perfect health- and the woman on the news, Desiree Jennings, 25, a former cheerleader, who had seizures and seems to be permanently affected.
Ugh, don't do it.