This is one of my most popular cartoons on Slate!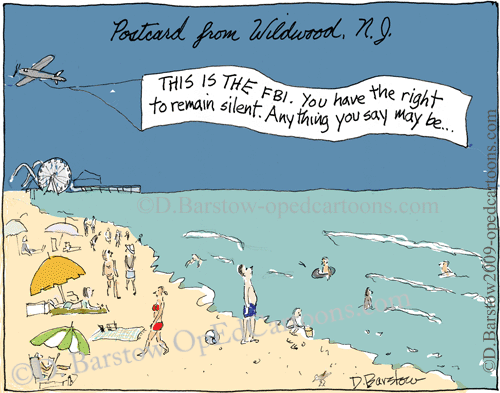 Summer is over! Not in LA, where we always have some beach, and it's always too sunny. But in my heart, the beach is really New Jersey. Specifically, Ocean City, where my grandmother had a house, was an every summer highlight. And we also tootled over to Atlantic City and to Westwood, and even Cape May…
The "beach" includes the strange skinny pine forests on the car ride there, the steamy, impenetrable quicksand (so we heard) in the swamps, the bay, with the piers and boats, and of course the boardwalks, a world unto themselves. We went to the shore for years, even when Atlantic City first allowed gambling – but aren't amusement park rides more fun, really?
This cartoon ran in Slate (Sorry, no link now. Uclick threw away 2 years of my cartoons on Slate, Gocomics and Yahoo News when they kicked me out of Gocomics.) in July, as  the FBI moved in and arrested solemn people. The black hats look like faithful people.
The WaPost says 44 people were arrested. The Christian Science Monitor calls NJ the corruption capital. Mayors, rabbis, money-laundering…I don't know. Chicago might want to fight you for that title.
In any case, I prefer to see the sunny side of the situation. Enjoy the water, slather on the sunscreen, watch out for the undertow, and don't forget the ferris wheel, just a ways down from here.
Cartoon caption: Postcard from Wildwood, NJ. This is the FBI. You have the right to remain silent. Anything you say may be used against you…and you know the rest.