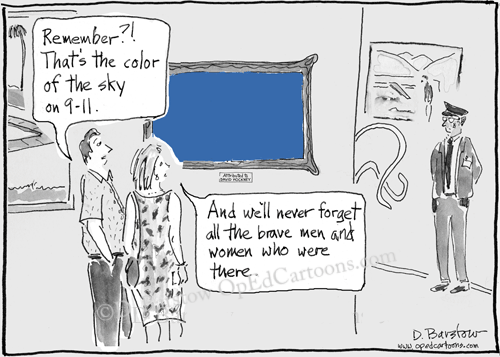 * UPdate: Different version of this in Psychology Today.
I have a growing collection of Sad Cartoons, it appears. I could have put this in the Holiday category, but that wouldn't have been appropriate, when this is a memorial cartoon for September 11.
I forget that holidays are big in newspapers. Newspapers, and in schools! I never forget what happened that day, of course, but wasn't paying attention to the calendar. Fortunately, I follow Daryl Cagle on Facebook and Twitter, and he put up a whole slew of September 11, 9/11, and 9-11 cartoons, no matter how you spell it. I noticed some good ones there. A lot of the cartoonists used the "eleven" part in Sept 11 to be the two Twin Towers of the World Trade Center. Very clever…the first 3 cartoons, anyway.
So then I had to work to think of a totally different idea from that!
I always think of the sky that day. The black smoke, the falling, burning tower, the falling bodies – when I make the effort to think of someone besides myself I think about those people in the Towers over and over, and the terrible decision so many made: burn or jump. I remember telling a friend at the time that I couldn't understand why they didn't have helicopters right there to swing ropes or whatever to the poor suffering people. He made fun of me, but I still think it was logistically quite feasible.
But anyway, the sky was so blue and beautiful, like I never think of NYC looking usually. With the whole tragedy going on, in it, around it, and under it, it stayed that way. It's now in my permanent collection.
Caption: "Remember? That's the color of the sky on Sept 11." "And we'll never forget all the brave men and women who were there."