Welcome to WordPress. This is your first post. Edit or delete it, then start blogging!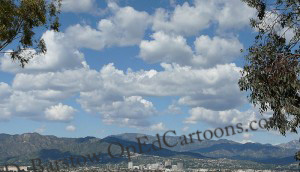 This is how every WordPress blog begins, with the title and sentence above. (The photo is the view from my apartment of the Glendale mountains, on a very rare day of beautiful clouds.) WordPress is charming and exciting – and very often frustrating. I'm leaving that famous sentence up here, even though this is actually my 3rd WordPress blog, because the beginning is always something to celebrate!
I'm starting this third blog because my first cartoon blog, Why I Did It, is more about general cartoons and my life as a cartoonist, and this will be a blog  just about current events and the news and my response to that through cartoons. (All posts before today are ones I posted over there and moved here as archives.) I'll be posting each editorial cartoon here, about a week after they are published in Slate and Gocomics (Sorry, no link now. Uclick threw away 2 years of my cartoons on Slate, Gocomics and Yahoo News when they kicked me out of Gocomics.) first. So if you want them hot off the press, go there. New ones go up about 10:30 PM PST for the next day.
I've only been doing editorial cartoons for a few months, so it's been quite the learning experience. I'll share some of that with you, too.
And I was thrilled to find this theme (template), so beautiful in its simplicity. I did make a lot of changes, but the major elements are still here, (I hope), and Dansette gets all the credit for that. I still want to change the header (the black & grey bar at the top), but I also want to get this blog rolling, on June 13th, lucky day!
And we're off.