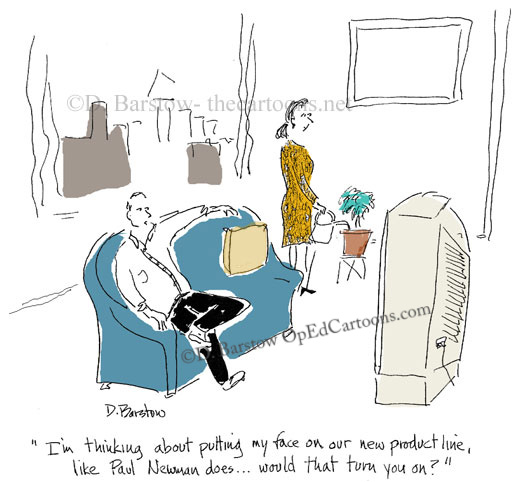 I heart Paul Newman! Not so much for his movies, although he was great – but for entering my own life by doing movies on location, where I found him in person.
I was dating the special effects guy on one film, and I remember he had to build a special sweat hut so Paul could sweat off all the beer he drank each day and still look trim for the film. (What, no Paul Newman beer? I think I saw a beer in his hand most of the time.) Another time, I was with some friends who went to a car race in Pennsylvania, and there he was, glowing on the track. He did have that star sparkle, and good for him.
He passed away this year, shortly before I started doing cartoons for Slate. You have to realize, I never even read editorial cartoons until the last year. Not ever.  So I was suprised and pleased that they also do cartoons about holidays (not just war holidays, like Memorial Day, but Easter, too) and also note when interesting or important people pass away. I would surely have done one for Paul, but this is the only cartoon I did about him, a couple of years ago. It's typical New Yorker, although it wasn't IN the New Yorker, of course.
Design note: I picked the colors out in about 10 seconds, and LOVE them!
Here's to you, Mr. Newman.