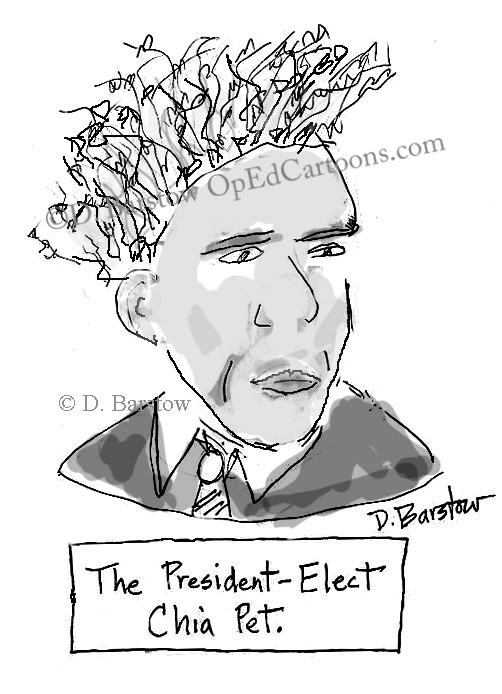 Kind of self-explanatory. A satisfying Christmas gift or Election Celebration centerpiece. Available only for a limited time, for only $1000, and is sure to sell out this Christmas [or Inaugural] season. (On TV it's limited, only while the chia pet ads last. Available longer right here, on this cartoon blog. )
An enterprising Josh Madison set up a Chia Pet Diary, with pictures for each day, so you can see it grow. (He has a cow. I'm the only one who has the President-Elect Chia Pet.)
Here is savontv.com, also interested in chia pets:
Q: Why are Chia items only sold during the holiday season?

A: Chia Pets and Chia Heads are handmade pottery items. It takes an entire year to produce enough Pets and Heads for one holiday season.
Who believes this, raise your hand? Oh well, it's okay to believe in Santa, so why not handmade Chia Pets. And Joseph Enterprises actually owns and makes Chia Pets, but they don't believe in the internet, nor in websites – they've been around for what, 20 years? And no website!!! -, so no linky here.
Not Time Magazine's Cartoon of the Week, AGAIN. Do they not get festive? Or is it the idea of Barack Obama with an afro? Go dig in the dirt, Time. 
* It's now halfway into January, and for some reason a lot of people are looking for this right now. Maybe I should offer this for sale on Etsy. Stay tuned.
Here we go, I noticed that after I wrote this and drew my cartoon, Ad Age got into the game and wrote about the real Chia Pet Company, Joseph Enterprises, designing an Obama chia pet now! I thought they were saying it as a joke. I wrote to Ad Age, and said, uh, did you check Google? I made this up first! The editor there said I was right! Their article on Dec 23 is now subscribe only, but  apparently there is now a real Obama chia pet being sold. I will get 50%, or $500 from each one, so buy one, buy them all.
**And yet another update. Soon after I wrote that above, I found that Joseph Enterprises FINALLY started their own website (without, apparently enough money to hire a real web designer. Eww!) I called them. I asked them when they started to design the Obama chia pet, since they didn't even have a website up until the end of January! They said they began sometime after the election to make sketches.
Hmm. My cartoon was up and on Google, and the top search on December 21. There was no mention of this ANYWHERE on Google before my cartoon went up. I am very suspicious.
UPDATE: 2009
They got pulled from some Walmart stores – just a couple of states – for consumer complaints that it was r-a-c-i-s-t. I hate PuffPost (for reasons explained elsewhere, but mainly for their fascist, niggardly, abusive policy of never paying for content and yet raking in money), never read it when I have a choice of news sources, but chose to comment this one time there.
I invented the Obama Chia Pet. http://thecartoons.net/2008/12/21/the-barack-obama-chia-pet/ It was on my blog before it ever appeared anywhere, and even before the Chia Pet Company had a website! Did they steal the idea from me? Apparently.

However, I'm a political cartoonist for Slate, so I can continue to draw many other political figures as plants.
What, you think I'm going to give evil Huffington Post  my good comment without promoting myself? Hah.